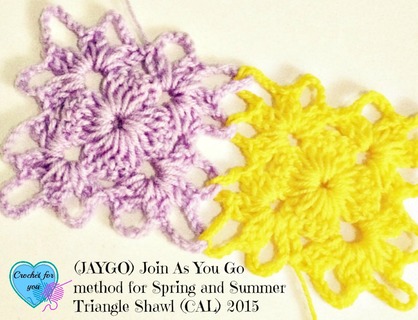 Join As You Go Crochet Method for Spring and Summer Triangle Shawl (CAL)
Join As You Go (JAYGo) Crochet Method
Disclosure This blog contains affiliate links.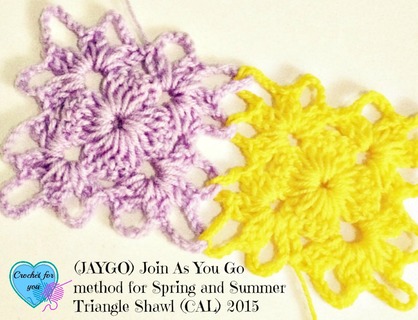 As you already know, I'm doing my first CAL Spring and Summer Triangle Shawl.
The CAL running through this month and part 1 has already released. Click here for more info. All the parts in this CAL are talking 95% about the motif pattern and how to joining them. So I decided to make a photo tutorial about the method I'm using to joining motifs. Join As You Go (JAYGO) crochet method is my favorite and I guess you love it too…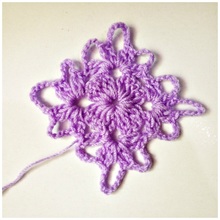 Each part in this CAL I add more step by step photos and graphs to show where the motif going to join with.

In the pattern instruction of the CAL, I say
1. Drop the loop off from the hook.
2. And insert the hook in ch-(count) space of the specific motif.
3. Pick up the loop means to insert the hook in that working loop, we dropped earlier.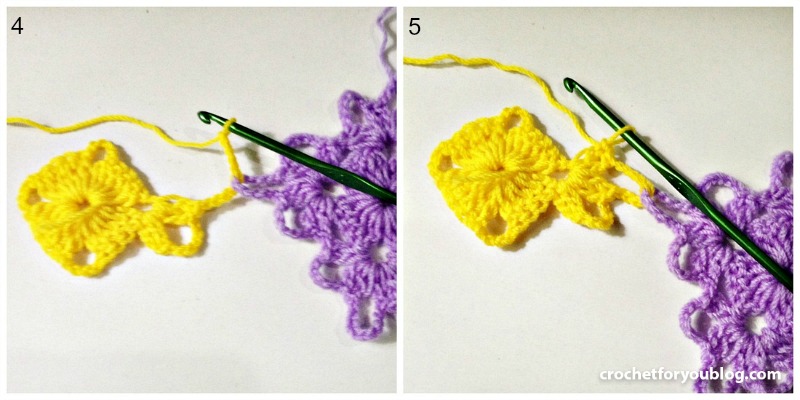 4. Crochet chains (count) in the pattern.
5. And 2 dc stitches in ch-5 space.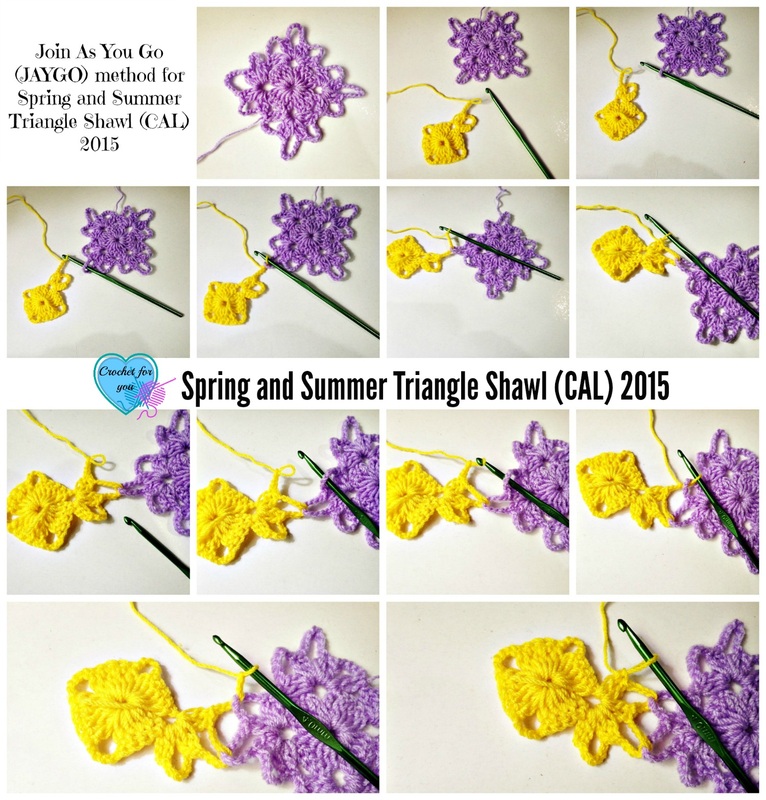 I think now you can understand well about the joining method I'm using in the Spring and Summer Triangle Shawl CAL. Very easy and super fast! If you interested about the CAL, find more info here. For the part 1 of the CAL click here.  and Share your WIP, finished projects on Fb page >> Crochet For You and don't forget to add CAL to the Ravelry queue.
Hope to see you soon with a new FREE pattern 
Until then, Happy Crocheting!!
Share your finished projects of this pattern on Crochet For You FB page.
Happy hooking with Crochet For You!!
Let's connect and share 
Facebook | Pinterest | Twitter | Instagram
All contents include photography and patterns are copyrighted Crochet For You by Erangi Udeshika.
Do not copy, edit, distribute or republish patterns and images in this blog in part or whole as your own. Please, share a direct link to the pattern with others and anywhere else. You are welcome to make and sell finished items using my patterns.
Visit Copyright / Terms of use for more info. Thank you.