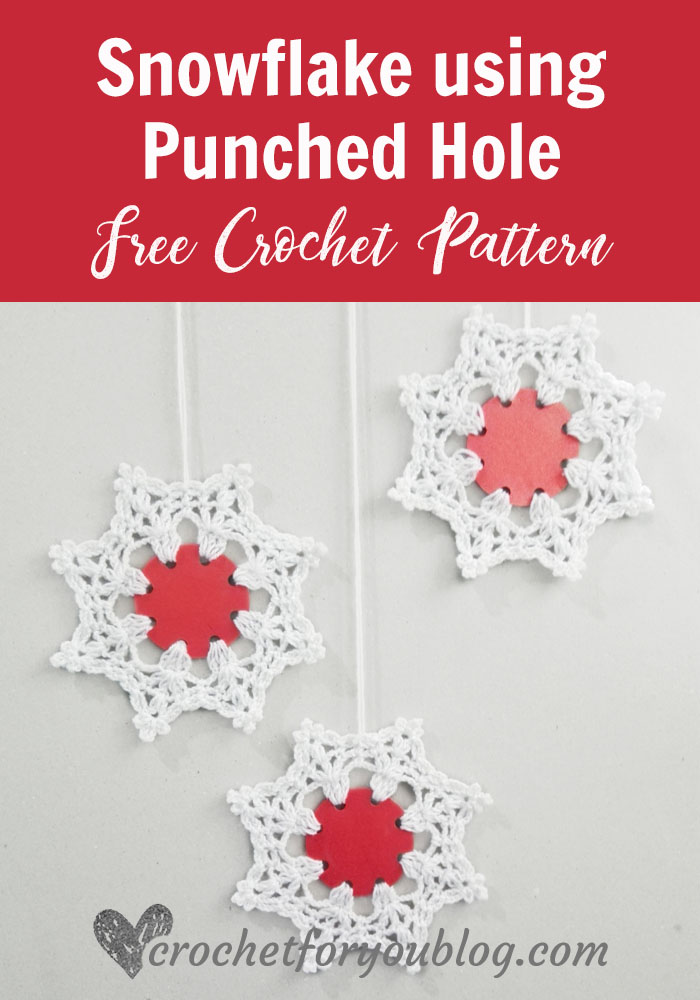 Crochet Snowflake using punched hole – free pattern
Crochet Snowflake using punched hole Pattern by Crochet For You.
Today I came to meet you with a new idea for crochet snowflake. There are lots of crochet snowflake out there now. These days I pin 2 – 3 pins at least a day to my Christmas Crochet Pattern board on Pinterest. Last weekend I try something new and different way to make crochet snowflake. Crochet snowflake with paper craft. Isn't it exciting to hear… 🙂
This is an extra pattern for this month
I was delighted and can't wait until next week to share this pattern with you. But, I normally share 2 patterns for a month. As you have already seen, Houndstooth Mini Stocking and Shell N Chains Fingerless Gloves are my newest pattern for this month.
Disclosure: This post may contain affiliate links.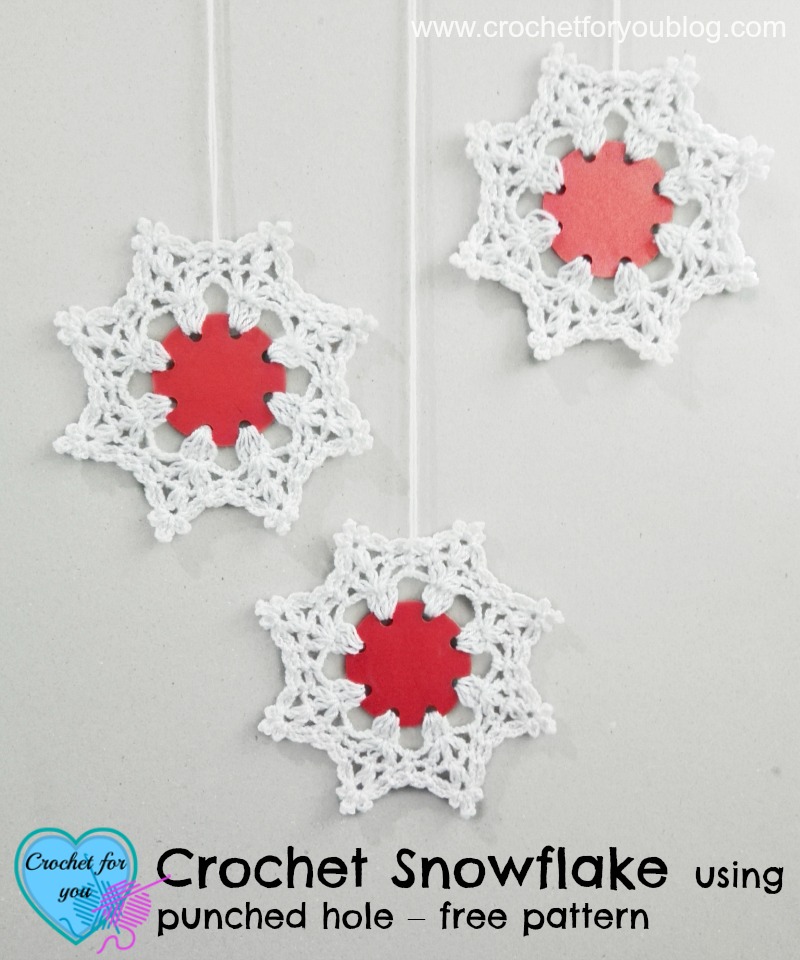 Don't forget to add this pattern to Ravelry queue
About the pattern
The pattern is not an ordinary crochet snowflake that we crochet every year. This snowflake we crochet around the cardboard circle using punch holes.
We are going to use those cardboard circles as a middle of the snowflake. There is no magic ring or foundation chain to start this crochet snowflake. The first round of the pattern starts with the holes around the circle.
Skill level easy
Finished size  5.5 width
Materials (I used)
Scissors / Pencil / Hole punch
A lid of bottle or any circular shape similar to 2" diameter
Card stock (I selected red color)
A piece of paper.
White color (12 yards)
3.5mm crochet hook
Tapestry needle
Gauge
The gauge is not important for this pattern.
Abbreviations
ch = chain
sc = single stitch
dc = double crochet
sl st = slip stitch
st = stitch
ch-sp = chain – space
*to* = repeat * to * the instructions.
[] = work instructions within brackets as many times as directed
Cut the circle to measure 2" diameter from a card and divide it into 8 parts.
Here is an easy way to divide the circle into 8 parts.
Draw a circle on card and paper using pencil and circle shape that you found. Cut the circles. Grab your circle of paper and fold it into 8 parts as shown below. See the photo collage. 
Mark 8 dots on each end of the folded lines near to the edge of the circle. Put the circle of paper on the circle of card. Punch the holes on all marked dots. You can reuse this paper circle to cut the more circle from the card.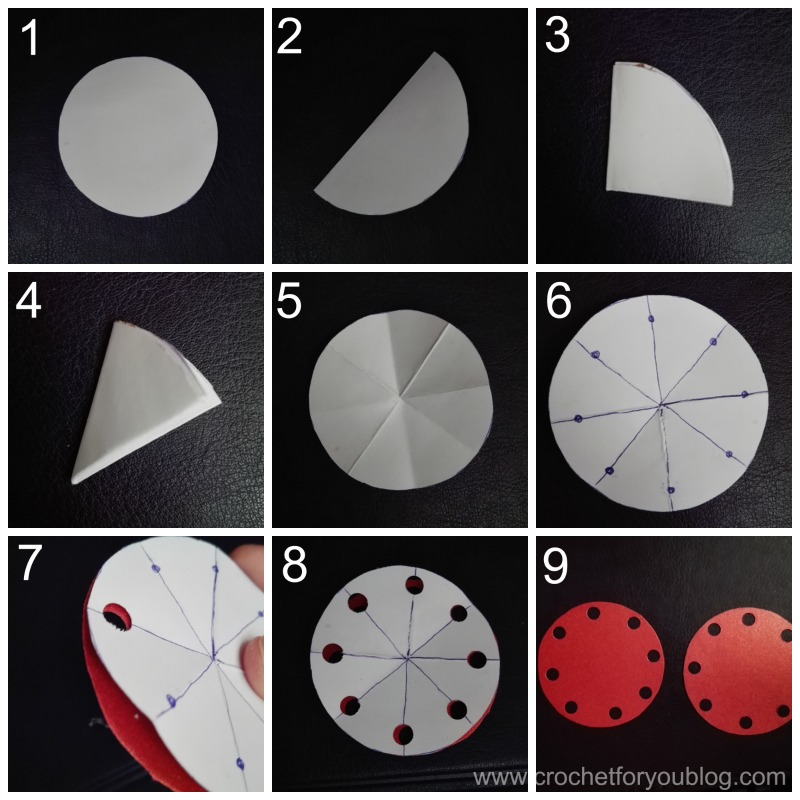 Snowflake Pattern
Round 1: Insert the hook in one of the hole on the circle and crochet 2 chains,3 dc in same hole, *ch 6, 3 dc in next hole* repeat *to* end, last ch 6 sl st to first dc. Image 1 and 2 (24 dc / 8 ch-sp)
Round 2: sl st to middle dc of 3 dc, ch 2, (dc, ch 2, dc, ch 2, dc) in same st, *ch 2, sc in ch-6 sp, ch 2, (dc, ch 2, dc, ch 2, dc) in middle dc of next 3 dc* repeat *to* end, last ch 2 sl st to first dc. Image 3 and 4 (8 (dc, ch 2, dc, ch 2, dc) / 8 sc)
Round 3: ch 1, sc in same st, *ch 3 (dc, ch 1, dc) in next dc, ch 3, sc in next dc, ch 2, sc in next sc, ch 2, sc in next dc* repeat *to* end, last ch 2 sl st to first sc. Image 5 and 6 (8 (dc, ch 1, dc))
Round 4: *ch 4, sl st to middle ch-sp of 2 dc, ch 4, sl st to same ch-sp, ch 6, sl st to same st, ch 4, sl st to same st, ch 4, sl st to next sc, [ch 3, sl st to next sc] 2 times* repeat *to* end. Image 7 and 8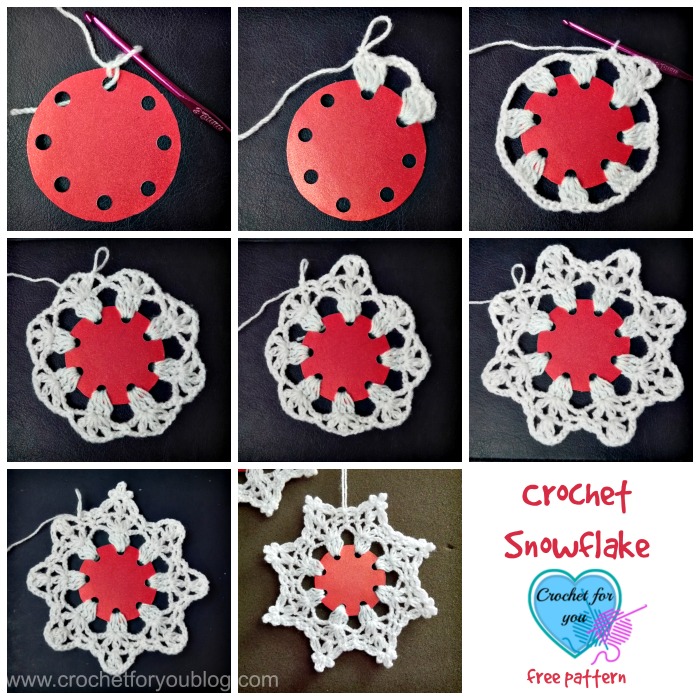 Hope to see you soon with a new FREE pattern 
Until then, Happy Crocheting!!
Share your finished projects of this pattern on Crochet For You FB page.
Happy hooking with Crochet For You!!
Let's connect and share 
Facebook | Pinterest | Twitter | Instagram
All contents include photography and patterns are copyrighted Crochet For You by Erangi Udeshika.
Do not copy, edit, distribute or republish patterns and images in this blog in part or whole as your own. Please, share a direct link to the pattern with others and anywhere else. You are welcome to make and sell finished items using my patterns.
Visit Copyright / Terms of use for more info. Thank you.