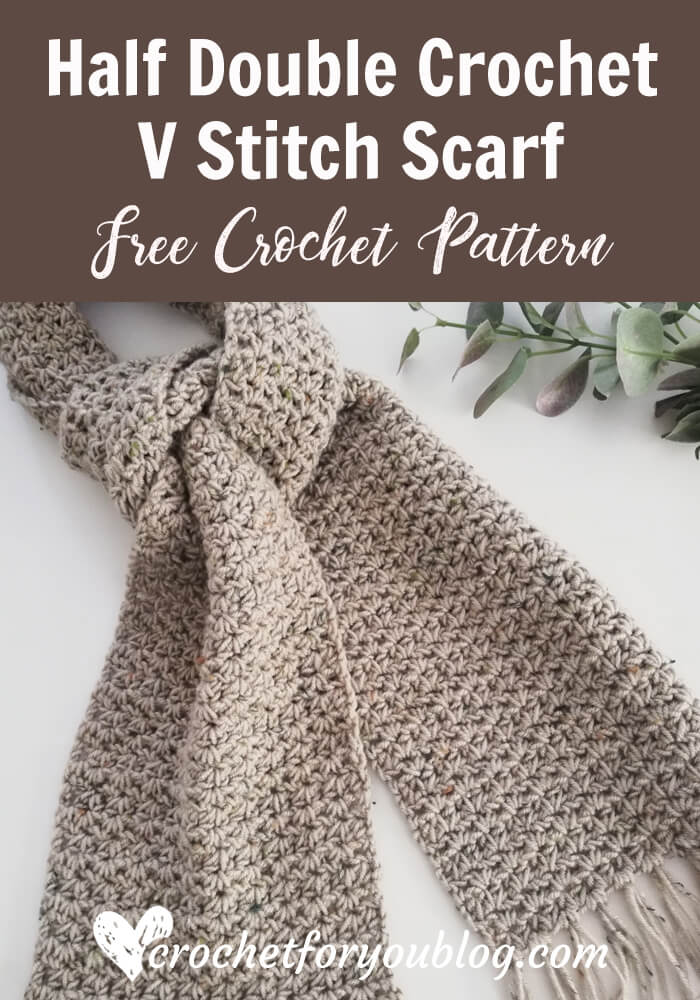 Half Double Crochet V Stitch Scarf Free Pattern
Half Double Crochet V Stitch Scarf Free Pattern by Crochet For You
The half double crochet V stitch is a beginner friendly scarf pattern which easy to crochet, soft but warm enough to wear on cold days. This super cozy scarf great for gift giving to family and friends. The pattern is very simple with one row repeat.

The scarf made with the half double crochet V stitch (hdc v stitch) one of the beautiful and textured stitch I have recently learned. Hope you enjoy the pattern, too.

Disclosure This blog may contain affiliate links.
Skill level: Easy

Finished size: 7.75″ wide, 60.5″ long without fringe. (This pattern can be adjusted to any size you want)

Material:
– #4 Medium / Worsted weight / Acrylic yarn
I used
– I used 2 skeins of Ice Yarn Super Tweed Beige (100g = 229yd/210m)
– US J-10 (6mm) crochet hook
– Tapestry needle for weaving ends

You can use any weight of yarns and crochet hook goes with the yarn you selected.

Gauge: gauge is not very important for this pattern.
Abbreviations
ch = chain
st = stitch
sk = skip
sc = single crochet
hdc = half double crochet
ch-sp = chain space
* to ; = repeat * to the instructions.
Special stitch:
hdc V stitch = (hdc, ch 1, hdc) in indicated stitch

Notes: I used a larger hook instead of the recommended hook size for the yarn weight to make scarf to make it more drape.
This scarf can be adjusted to any size by crocheting multiple of 2 chains. And repeating rows as much as you want.
Half Double Crochet V Stitch Scarf Pattern
Crochet multiple of 2.
crochet ch 24
Row 1:  (hdc, ch 1, hdc) in the fourth ch from the hook, *sk next ch, (hdc, ch 1, hdc) in next ch; repeat until last 2 ch remain, sk next ch, hdc in last st. turn.

Row 2: ch 1, hdc in first st, (hdc, ch 1, hdc) in next ch-1 sp between two hdc stitches, *(hdc, ch 1, hdc) in next ch-1 sp; repeat until last ch-1 sp, hdc in last st, turn.

Row 3 to 127: repeat row 2. Fasten off and weave the end.
Add Fringe
Cut 8″ strands of yarn, 2 strands together (if you want, you can add more strands), fold the yarn in half (image 1), insert the hook into the space of bottom edge of the scarf (image 2) and pull folded loop through the space (image 3).
Grab the yarn tail (image 4) and pull them back again through the loop (image 5 & 6). Use the scissors to trim the fringe to get the straight edge and the same length.
Hope to see you soon with a new FREE pattern
Until then, Happy Crocheting!!
Share your finished projects of this pattern on Crochet For You FB page.
Happy hooking with Crochet For You!!
Let's connect and share
Facebook | Pinterest | Twitter | Instagram

All contents include photography and patterns are copyrighted Crochet For You by Erangi Udeshika.
Do not copy, edit, distribute or republish patterns and images in this blog in part or whole as your own. Please, share a direct link to the pattern with others and anywhere else. You are welcome to make and sell finished items using my patterns.
Visit Copyright / Terms of use for more info. Thank you.