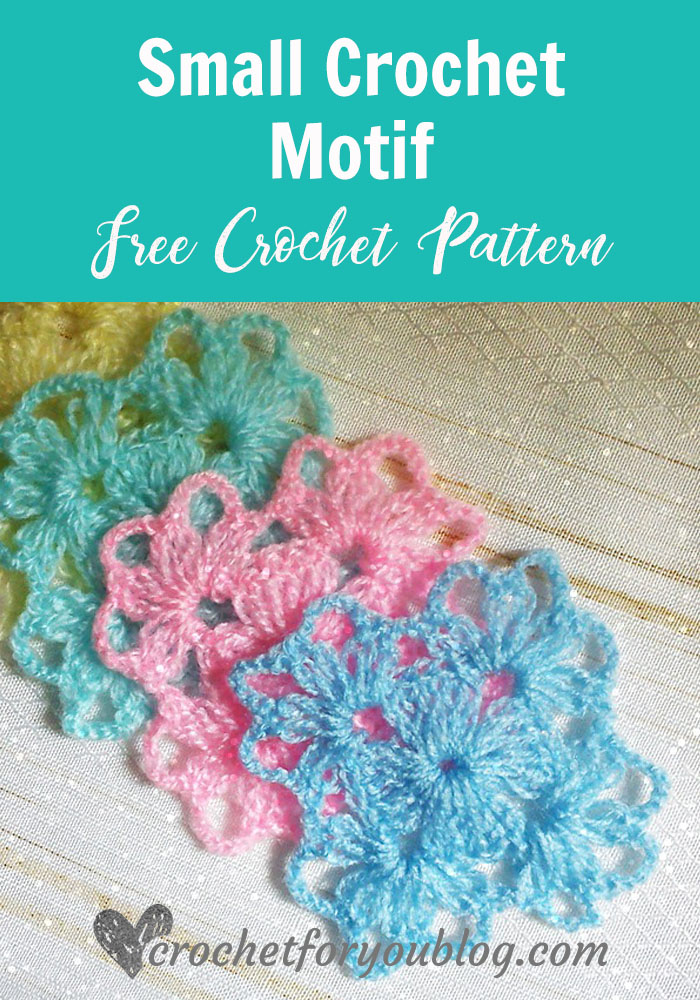 Small Crochet Motif – free pattern
Small Crochet Motif Pattern by Crochet For You.
These Small Crochet Motifs are so pretty and simple. There are many ways to use them in your crochet designs.
Disclosure: This post contains affiliate link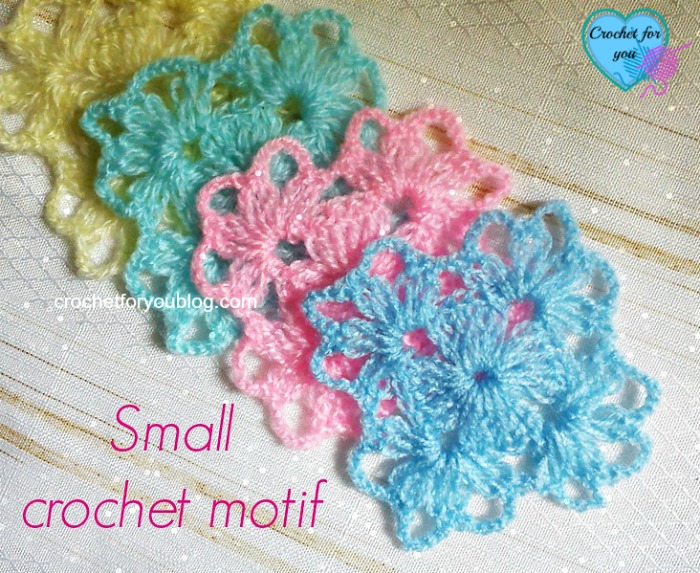 Skill Level Easy
Materials (I used) fingering weight yarn
A Little amount of fingering weight yarn. (mint, yellow, pink and blue for each motif) 

2.25 mm crochet hook.
Note: You can use any yarn weight and a crochet hook to go with the yarn you select.
Abbreviations
ch = chain

dc = double crochet

sl st = slip

stitch

ch-()sp = chain-(number of chains) spaces
Small Crochet Motif Pattern
Pattern instruction
ch 8, sl st to first ch from hook.  (Made a ring)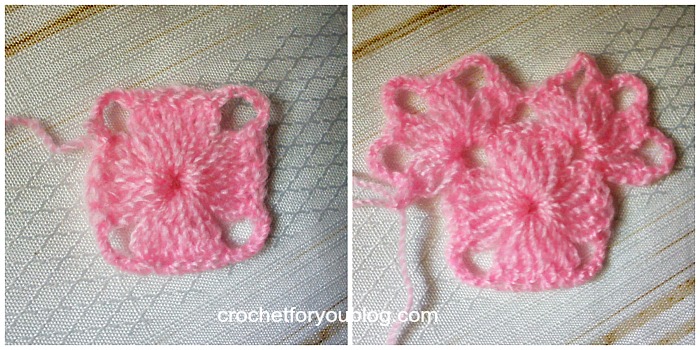 Row 1: ch 3, 4 dc into the ring, ch 5, [5 dc, ch 5 into the ring] 3 times and sl st to ch 3 top.
ch 3, turn the work.
Row 2: dc in ch-5 space, [ch 6, 2 dc in same space] 3 times, [2 dc, ch 6, 2 dc, ch 6, 2 dc, ch 6, 2 dc in next ch-5 space] repeat 3 times and sl st to ch 3 top, fasten off.
These small motifs can join together corner to corner and side to side. In row 2 you can see obviously that there are three ch-6 spaces in each corner. By using these ch-6 spaces you can join motif together.
Click here to see Join As You Go (JAYGO) method I used for making Spring and Summer Triangle Shawl (CAL) with this motif pattern.
---
Marvelous Crochet Motifs – $2.79 (affiliate link)
Includes 48 motifs and four projects. The motifs are squares and hexagons that can be tiled together to make a fabric. The designer also included half motifs which are used to fill in the spaces and add shape. The motifs can be stitched together to create all kinds of projects from a coaster or washcloth to a wrap or afghan. As an extra bonus, we have included symbol crochet for each motif and project. The four projects include a scarf, hat, cowl and a blanket. 

Hope to see you soon with a new FREE pattern
Until then, Happy Crocheting!!
Share your finished projects of this pattern on Crochet For You FB page.
Happy hooking with Crochet For You!!
Let's connect and share
Facebook | Pinterest | Twitter | Instagram

All contents include photography and patterns are copyrighted Crochet For You by Erangi Udeshika.
Do not copy, edit, distribute or republish patterns and images in this blog in part or whole as your own. Please, share a direct link to the pattern with others and anywhere else. You are welcome to make and sell finished items using my patterns.
Visit Copyright / Terms of use for more info. Thank you.