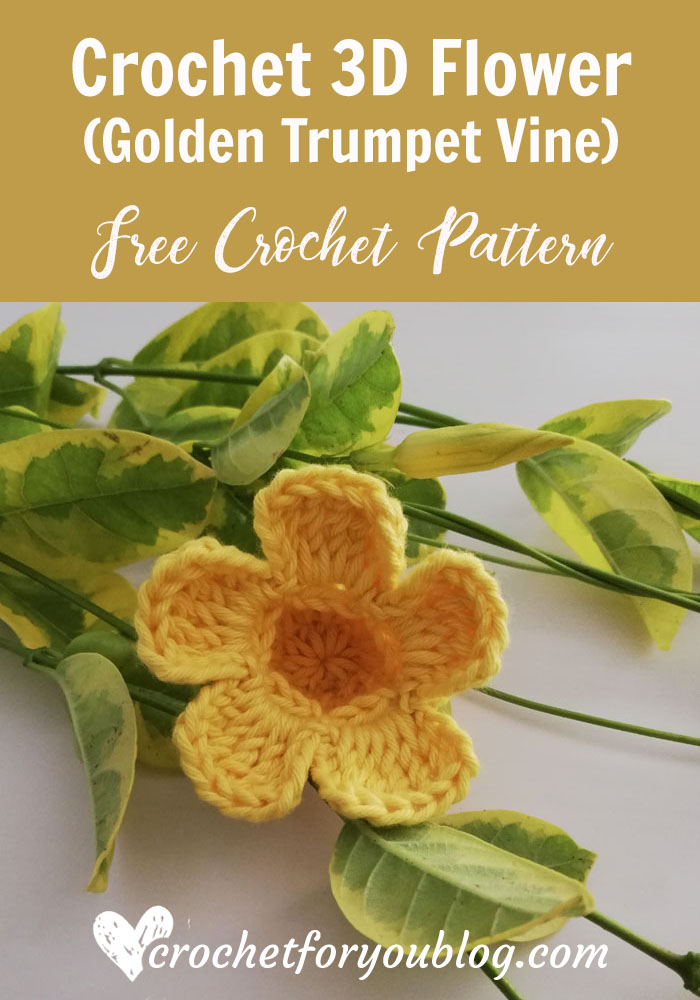 Free Crochet Flower Pattern – Golden Trumpet Vine
Golden Trumpet Vine (Allamanda cathartica) by Crochet For You.
These beautiful yellow flowers are blooming around our home. We commonly called them Ruk Aththana flower. One evening I began to crochet this flower and it came up nicely as same as Ruk Aththana (Golden Trumpet). Finally, I could get a nice photo of my crocheted flower with the real Golden Trumpet.
Disclosure: This post contains affiliate links.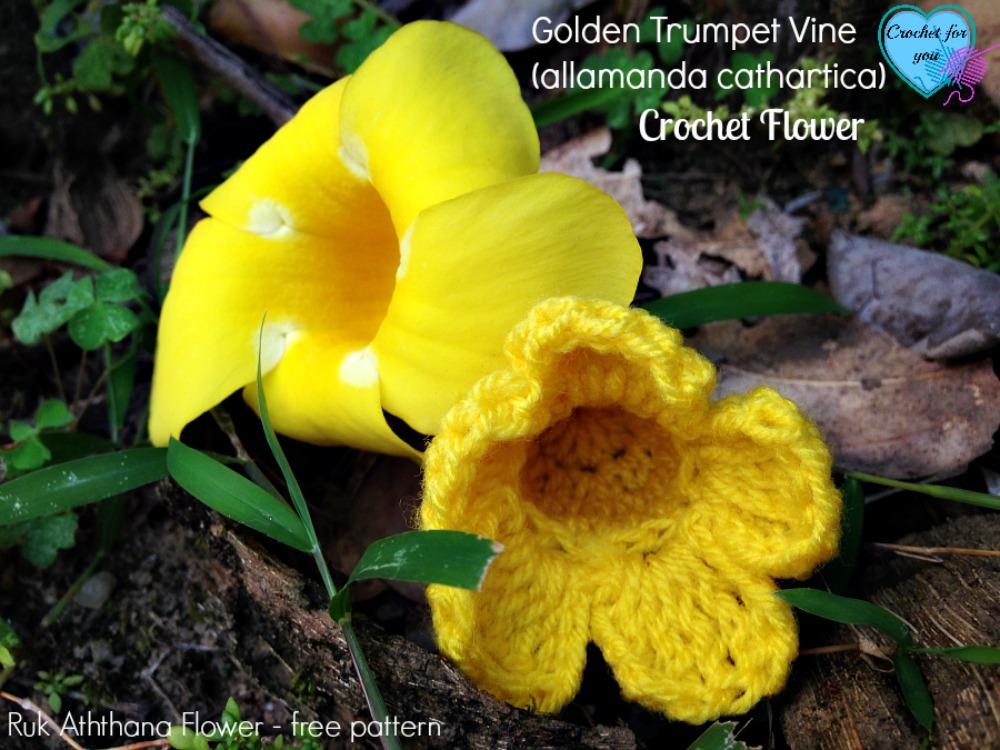 Skill Level: Easy
Materials (I used)
Sport weight (15 WPI)
Small amount of Yellow color
3.5 mm crochet hook
This pattern can be worked in any yarn weight. Gauge is not very important for this project.
Abbreviations:
ch = chain
sl st = slip stitch
hdc = half double crochet
tr = treble crochet
sk = skip
*to ; = repeat * to * the instructions.
---
Watch the video tutorial 
Golden Trumpet Crochet flower pattern
Stem
ch 11, sl st to the second ch from hook, *sl st to next ch; repeat * to end.
Flower
Round 1: ch 2 (does not count as st), 10 hdc in the last st you just crocheted. sl st to first hdc. (10 sts)
Round 2: ch 2 (does not count as st), 2 hdc in same st, *1 hdc in next st, 2 hdc in next st; repeat * to end, sl st to the first hdc. (15 sts)
Round 3: ch 2 (does not count as st), hdc in same st, hdc in each st across, sl st to the first hdc. (15 sts)
Round 4: *ch 4, sk next 2 sts, sl st to the next; repeat * to end. (5 ch-4 spaces)
Round 5: sl st to the first ch-4 space, *ch 4, 5 tr in same ch-4 space, ch 4, sl st to same ch-4 space (one pelal is completed), sl st to next ch-4 space; repeat * to end. Fasten off. (5 petals)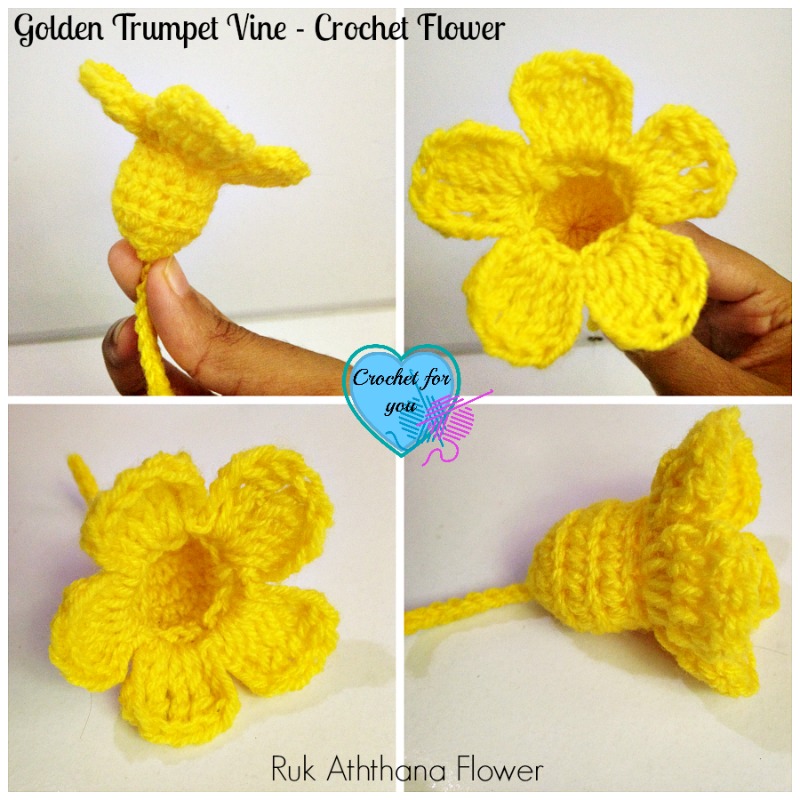 Hope to see you soon with a new FREE pattern
Until then, Happy Crocheting!!
Share your finished projects of this pattern on Crochet For You FB page.
Happy hooking with Crochet For You!!
Let's connect and share
Facebook | Pinterest | Twitter | Instagram

All contents include photography and patterns are copyrighted Crochet For You by Erangi Udeshika.
Do not copy, edit, distribute or republish patterns and images in this blog in part or whole as your own. Please, share a direct link to the pattern with others and anywhere else. You are welcome to make and sell finished items using my patterns.
Visit Copyright / Terms of use for more info. Thank you.