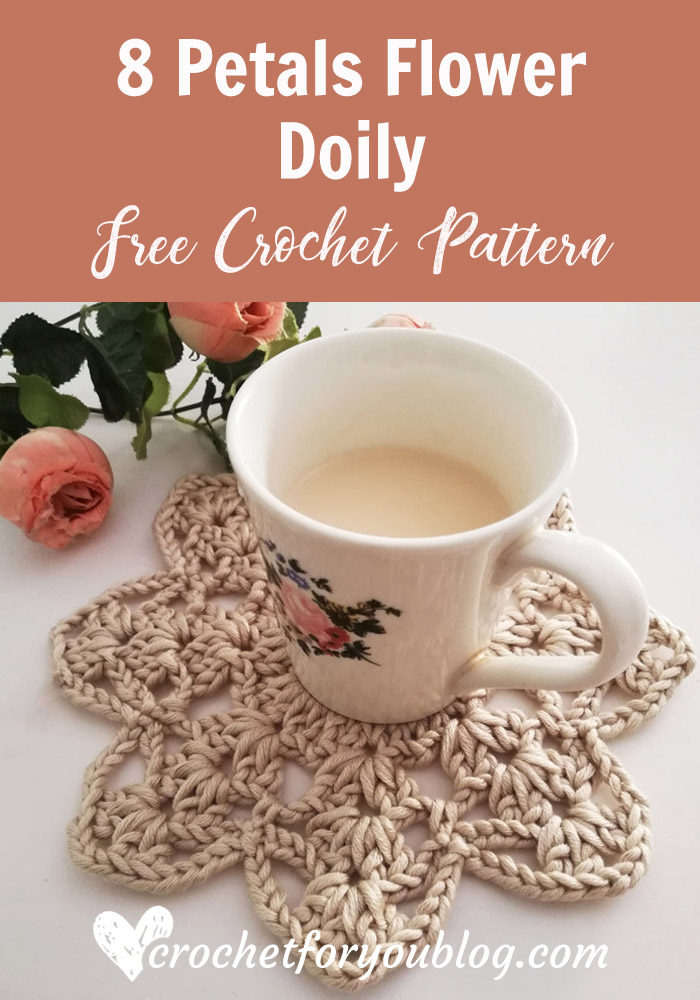 8 Petals Flower Doily Free Crochet Pattern
8 Petals Flower Doily Crochet Pattern by Crochet For You.
This pattern very special to me because it was given by my aunt who taught me how to crochet.
The pattern used to make a small crochet motif with thread or thinner yarn like Lace, Super Fine and sport weight that great for a table runner, shawl and more
But I thought this pattern also great for a doily. So my friends, here I have shared the pattern for 8 Petals Flower Doily. 🙂
As I said the greatest part about this pattern is you can make it larger sizes. Or as my aunt does, you can make a small motif with thread or thinner yarn and join together to make larger crochet projects. See the notes section.
Disclosure This post contains affiliate links.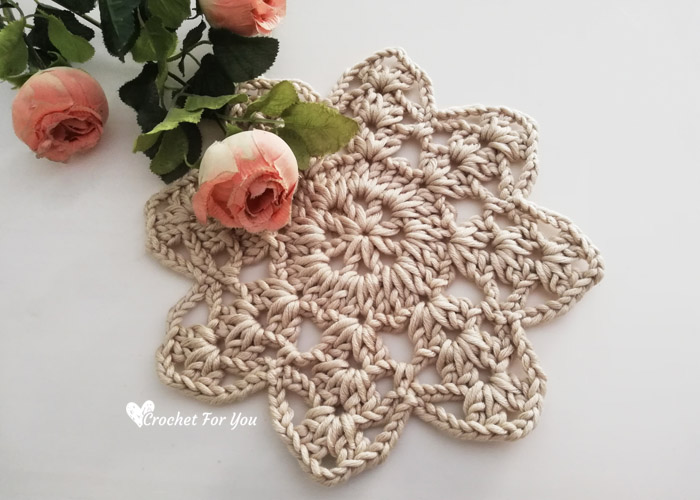 Skill level: Easy
Finished size: 8.75″ diameter.
Materials
#4-Medium / Worsted / Cotton / Approx: 50 yards
I-9/ 5.5mm crochet hook
Tapestry needle for weaving ends.
Gauge: 12 hdc x 8 rows = 4″ with I-9, 5.5mm crochet hook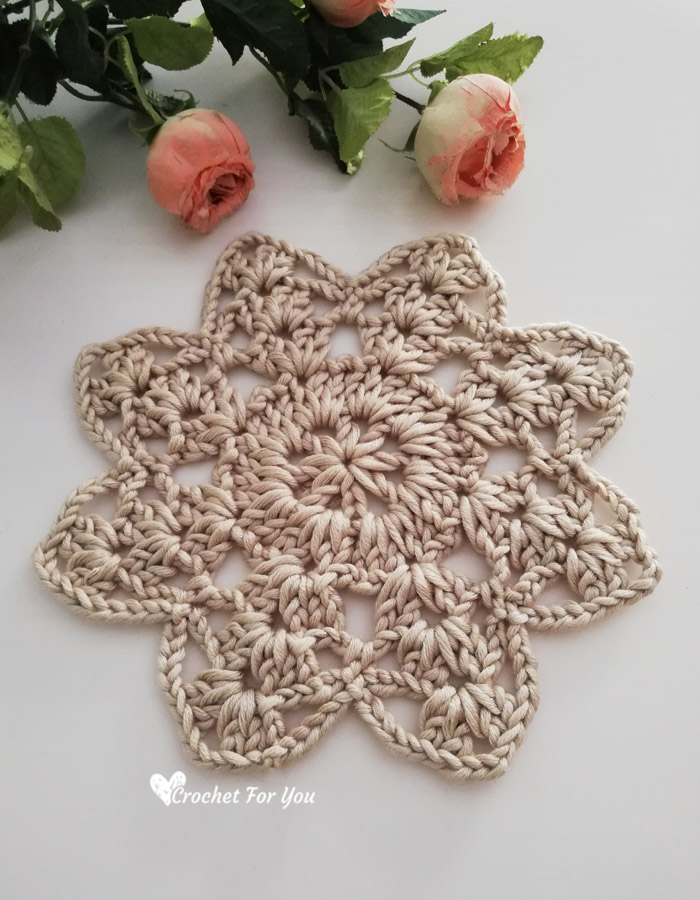 Abbreviations
ch = chain
sc = single crochet
dc = double crochet
sl st = slip stitch
sk = skip
ch- sp = chain spaces
Beg = beginning
* to ; = repeat * to the instructions.
Special stitch:
shell st = (2 dc, ch 3, 2 dc) in one st.
Notes:
After round two, 8 petals begin with shell stitches.
If you want to make a larger doily, repeat the last round by increasing chains and dc stitches in shell st.
To make a motif you can use #0-Lace, #1-Super Fine, #2-Fine, and #3-Lightweight yarns.
---
Video
Watch the video tutorial of this pattern. Click here for the left-handed tutorial
---
8 Petals Flower Doily Pattern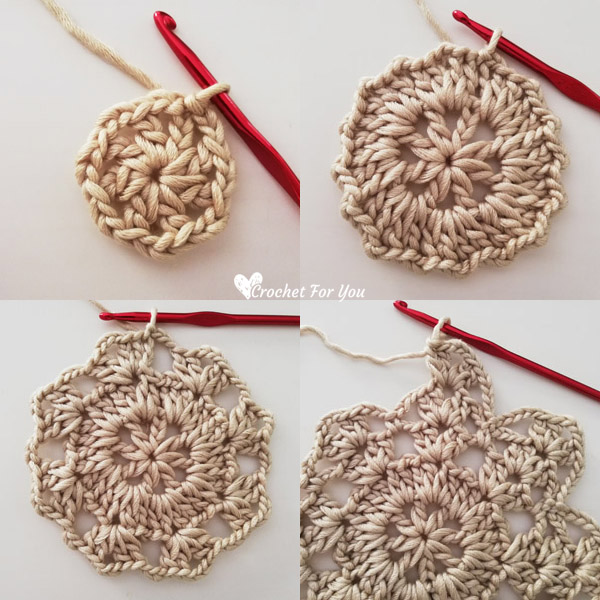 Make an adjustable/magic ring
Round 1: ch 5 (count as dc and ch 2), [dc, ch 2] 7 times, after crocheting last chain 2, sl st to the beg ch 3 top. (8 dc / 8 ch-sp(s))
Round 2: sl st to the first ch-sp, ch 3 count as dc), (1 dc, ch 2, 2 dc) in first ch-sp, ch 2 *(2 dc, ch 2, 2 dc) in next ch-2 sp, ch 2; repeat * to around, after crocheting last chain 2, sl st to the beg ch 3 top. (32 dc / 32 ch-sp(s))
Round 3: sl st until first ch-sp, ch 2 (does not count as st), shell st in the same ch-sp, *ch 3, sk next ch 2, shell st in next ch-sp; repeat * to around, after crocheting last chain 3, sl st to first dc. (8 shell sts / 8 ch-sp(s))
Round 4: sl st until first ch-sp of the previous shell, ch 2 (does not count as st) , shell st in same ch-sp, ch 3, sc in next ch-sp, ch 3, *shell st in next ch-sp of the previous shell, ch 3, sc in next ch-sp, ch 3; repeat * to around, after crocheting last chain 3, sl st to first dc of the shell. (8 shell sts)
Round 5: sl st until first ch-sp of the previous shell, ch 2 (does not count as st), shell st in same ch-sp, ch 5, sc in next sc, ch 5, *shell st in next ch-sp of the previous shell, ch 5, sc in next sc, ch 5; repeat * to around, after crocheting last chain 3, sl st to first dc of the shell. (8 shell sts)
Hope to see you soon with a new FREE pattern
Until then, Happy Crocheting!!
Share your finished projects of this pattern on Crochet For You FB page.
Happy hooking with Crochet For You!!
Let's connect and share
Facebook | Pinterest | Twitter | Instagram

All contents include photography and patterns are copyrighted Crochet For You by Erangi Udeshika.
Do not copy, edit, distribute or republish patterns and images in this blog in part or whole as your own. Please, share a direct link to the pattern with others and anywhere else. You are welcome to make and sell finished items using my patterns.
Visit Copyright / Terms of use for more info. Thank you.