Crochet Checkerboard Granny Square Free Pattern
Checkerboard Granny Square Pattern by Crochet For You
I was able to finish another granny square last week. This lovely squares will make a perfect blanket or afghan for your home.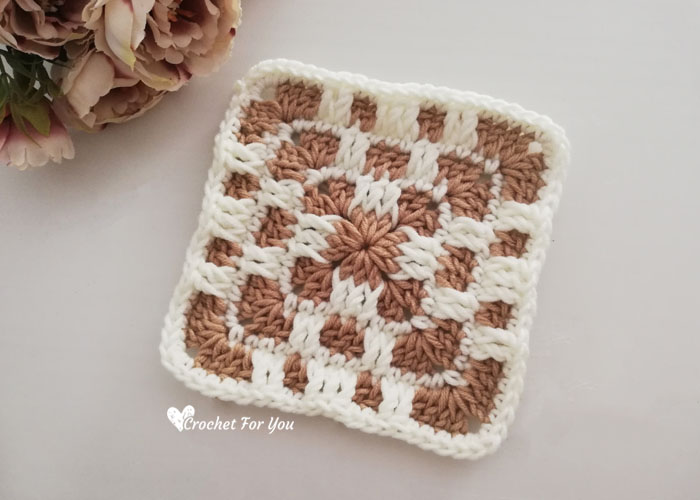 There are many possibilities to use granny squares in crochet. If you are looking for a square pattern to make blankets, afghans, cushion covers and more this checkerboard granny square are great together.
Look at the image below I photo edited to give you an idea for an afghan.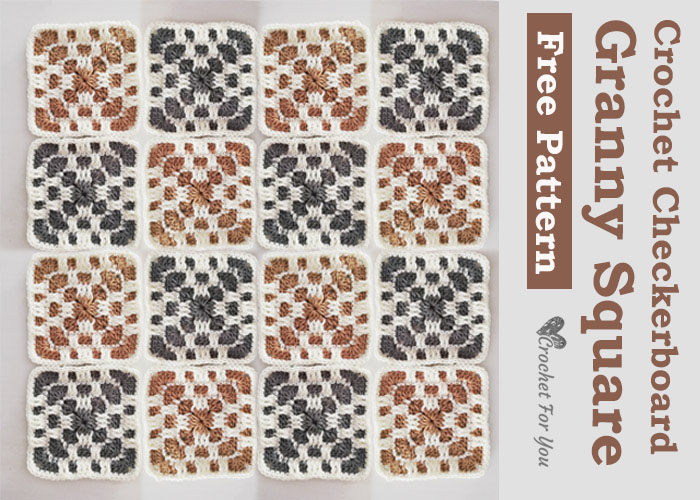 Skill Level: Intermediate
Finished sizes: 6″ x 6″
Materials:
4-Medium / Worsted / 100% Acrylic in 2 colors (Approx: 300 yards in total)
I-9 / 5.5mm crochet hook
Tapestry needle for weaving ends
Scissors
Gauge: 13 hdc x 9 rows = 4″ with I-9 / 5.5mm crochet hook
Abbreviations / special stitches
ch = chain
sl st = slip stitch
sc = single crochet
dc = double crochet
fpdc = front post double crochet
ch-sp = chain- (number of chains) space
st = stitch
beg = beginning
[ ] work instructions within brackets as many times as directed
C1 = color 1
C2 = color 2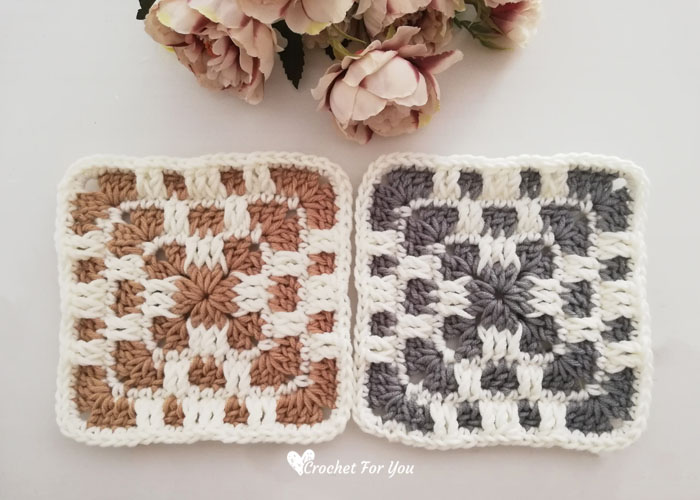 Checkerboard Granny Square Pattern
With (C1), Make a magic ring,
Round 1: ch 3 (count as dc), 2 dc into the ring, [ch 2, 3 dc into the ring] 3 times, ch 2, sl st to the beg ch 3. (12 dc) before start next round, sl st until next ch-2 space.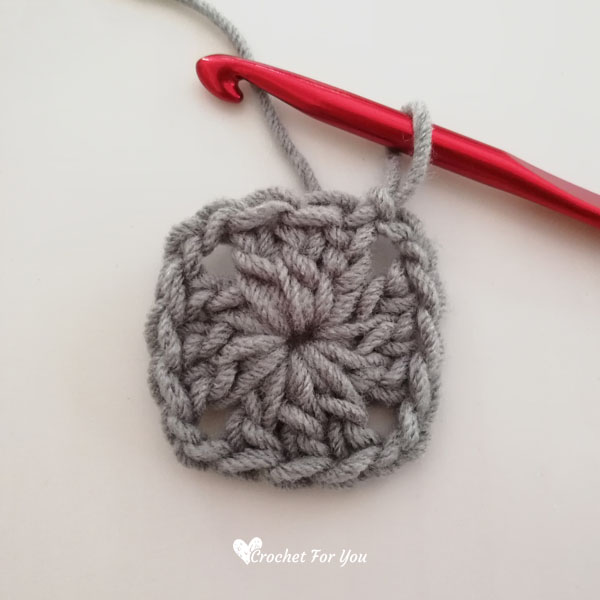 Round 2: ch 3 (count as dc), dc, ch 2, 2 dc in same ch-sp, [ch 3, (2 dc, ch 2, 2 dc) in next ch-sp] 3 times, ch 3, sl st to the beg ch 3 top. (16 dc)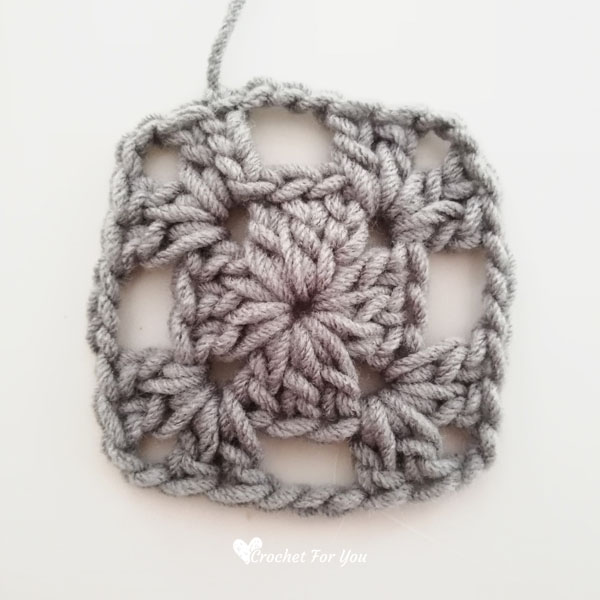 Round 3: (in this round, every fpdc is working over the chains and in next st two rounds below).
with (C2), join the yarn ch-2 sp, ch 1, (sc, ch 2, sc) in same ch-sp, [sc in each of next 2 dc, fpdc in next 3 dc two rounds below, sc in each of next 2 dc, (sc, ch 2, sc) in next ch-sp] 3 times, sc in each of next 2 dc, fpdc in next 3 dc two rounds below, sc in each of next 2 dc, sl st to the first sc. (12 fpdc / 24 sc)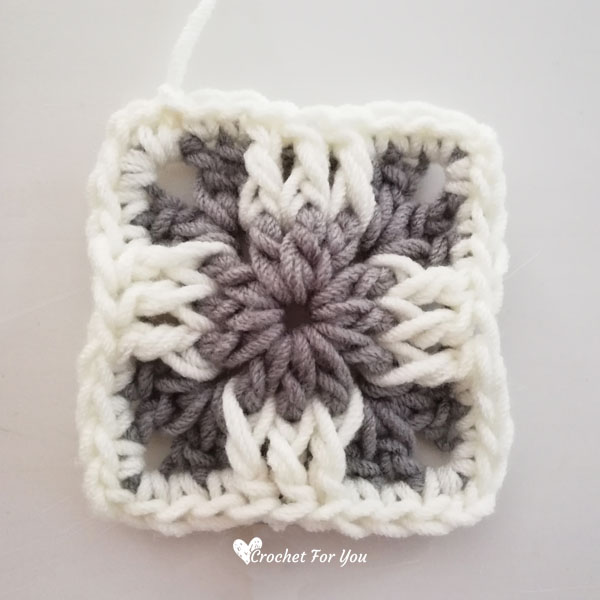 Round 4: with (C1), join the yarn ch-2 sp, ch 3 (count as dc), dc, ch 2, 2 dc in same ch-sp, [dc in next sc, ch 2, sk next 2 sc, dc in each of next 3 fpdc, ch 2, sk next 2 sc, dc in next sc, (2 dc, ch 2, 2 dc) in next ch-2 space] 3 times, dc in next sc, ch 2, sk next 2 sc, dc in each of next 3 fpdc, ch 2, sk next 2 sc, dc in next sc, sl st to the beg ch 3 top. (36 dc)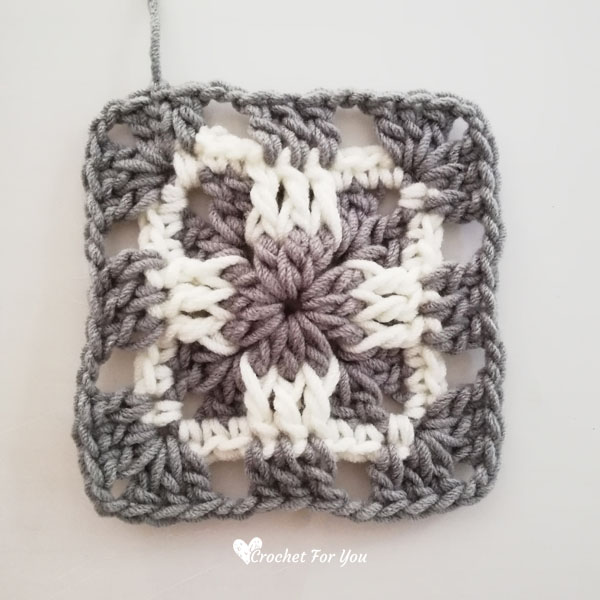 Round 5: (in this round, every fpdc is working over the chains and in next st two rounds below).
with (C2), join the yarn ch-2 sp, ch 1, (sc, ch 2, sc) in same ch-sp, [sc in each of next 3 dc, fpdc in next 2 sc two rounds below, sc in each of next 3 dc, fpdc in next 2 sc in two rounds below, sc in each of next 3 dc, (sc, ch 2, sc) in next ch-2 sp] 3 times, sc in each of next 3 dc, fpdc in next 2 sc two rounds below, sc in each of next 3 dc, fpdc in next 2 sc in two rounds below, sc in each of next 3 dc, sl st to the first sc. (44 sc / 16 fpdc)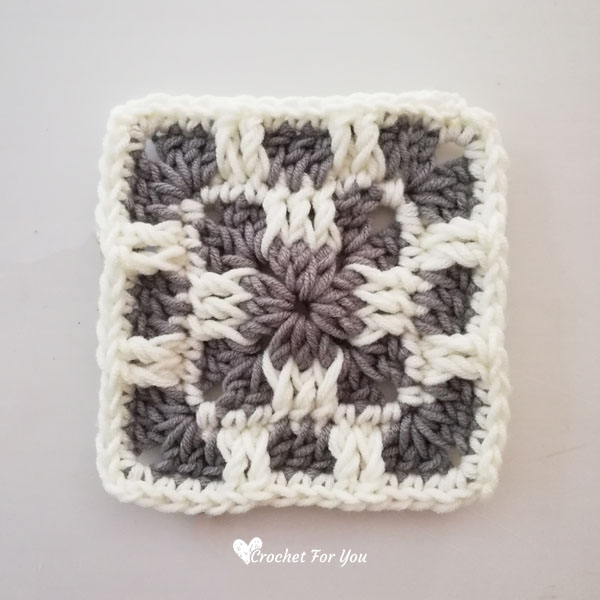 Round 6: with (C1), join the yarn ch-2 sp, ch 3 (count as dc), dc, ch 2, 2 dc in same ch-sp, [dc in each of next 2 sc, ch 2, sk next 2 sc, dc in each of next 2 fpdc, ch 3, sk next 3 sc, dc in each of next 2 fpdc, ch 2, sk next 2 sc, dc in each of next 2 sc (2 dc, ch 2, 2 dc) in next ch-2 space] 3 times, dc in each of next 2 sc, ch 2, sk next 2 sc, dc in each of next 2 fpdc, ch 3, sk next 3 sc, dc in each of next 2 fpdc, ch 2, sk next 2 sc, dc in each of next 2 sc, sl st to the beg ch 3 top. (48 dc)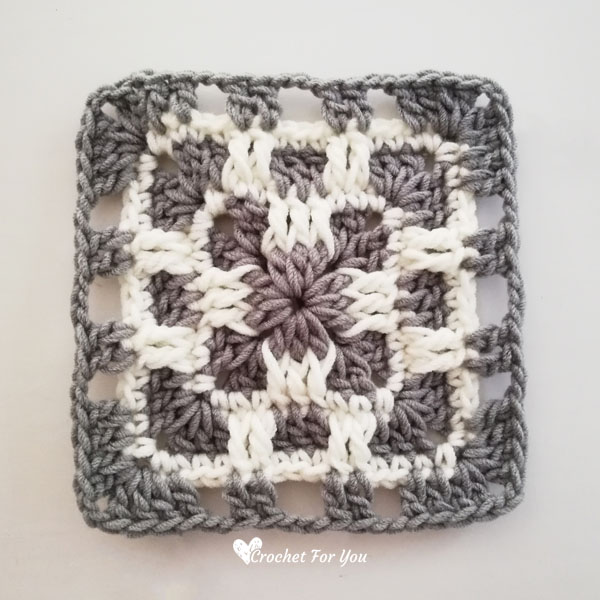 Round 7: (in this round, every fpdc is working over the chains and in next st two rounds below).
with (C2), join the yarn ch-2 sp, ch 1, (3 sc) in same ch-sp, [sc in each of next 4 dc, fpdc in next 2 sc two rounds below, sc in each of next 2 dc, fpdc in each of next 3 sc in two rounds below, sc in each of next 2 dc, fpdc in next 2 sc two rounds below, sc in each of next 4 dc, (3 sc) in next ch-3 sp] 3 times, sc in each of next 2 dc, fpdc in next 2 sc two rounds below, sc in each of next 2 dc, fpdc in next 3 sc in two rounds below, sc in each of next 2 dc, fpdc in next 2 sc two rounds below, sc in each of next 4 dc, sl st to the first sc. (60 sc / 28 fpdc)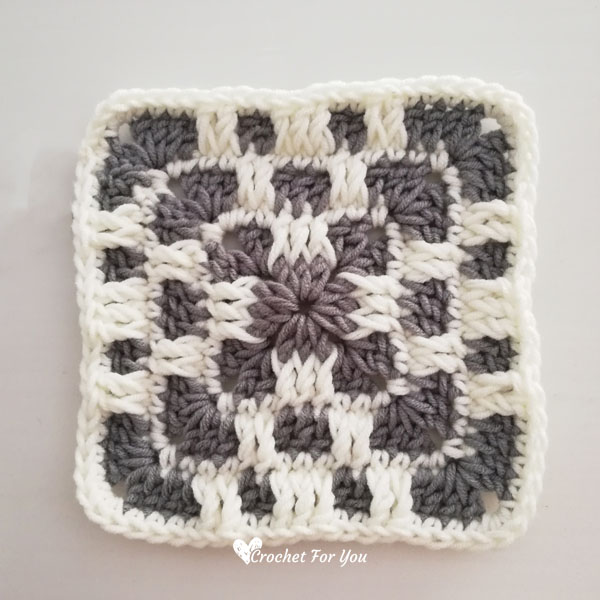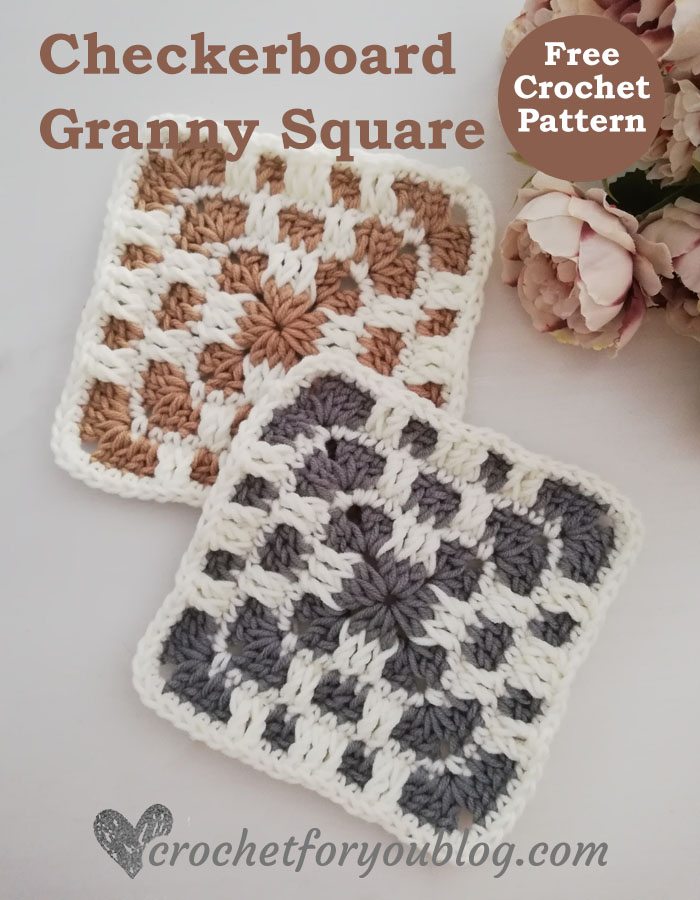 Hope to see you soon with a new FREE pattern
Until then, Happy Crocheting!!
Share your finished projects of this pattern on Crochet For You FB page.
Happy hooking with Crochet For You!!
Let's connect and share
Facebook | Pinterest | Twitter | Instagram

All contents include photography and patterns are copyrighted Crochet For You by Erangi Udeshika.
Do not copy, edit, distribute or republish patterns and images in this blog in part or whole as your own. Please, share a direct link to the pattern with others and anywhere else. You are welcome to make and sell finished items using my patterns.
Visit Copyright / Terms of use for more info. Thank you.