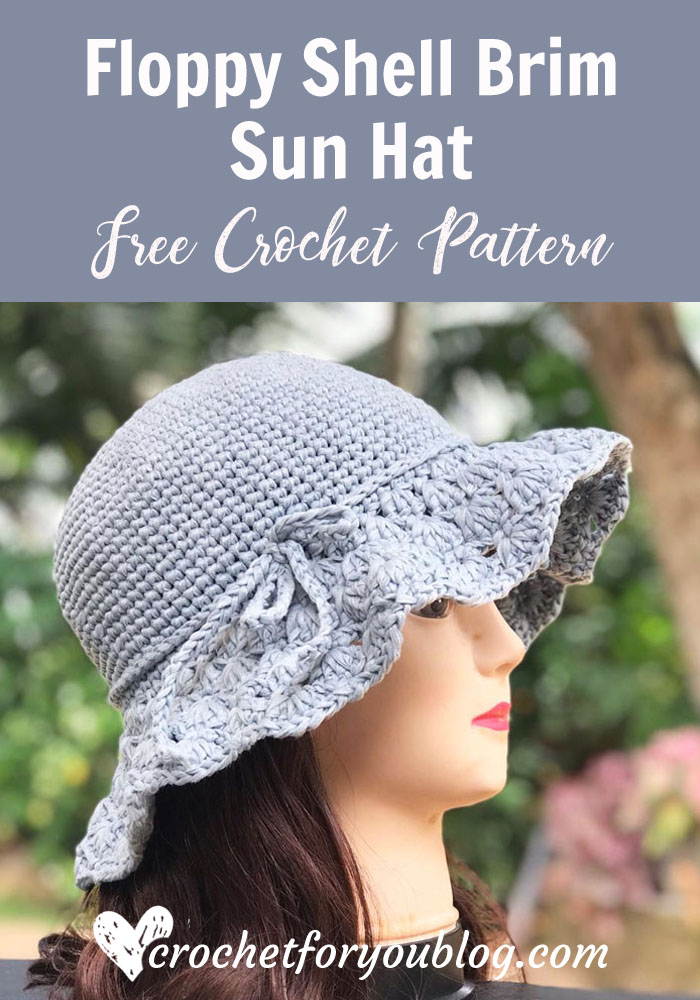 Floppy Shell Brim Sun Hat Free Crochet Pattern
Floppy Shell Brim Sun Hat Crochet Pattern by Crochet For You
This easy beginner friendly sun hat pattern for summer is inspired by the yarn I ordered. I believe the tape yarn is really perfectly great for making sun hats for everyday use so I chose the Lion Brand Rewind yarn to make my own sun hat.
This pattern is
beginner friendly
easy to follow and
great for everyday use when you go out in the summertime.
The body of the hat is worked with single crochet and not joined after each round. The floppy shell Brim gives the hat feminine look and protects your eyes from the sun rays.

Disclosure This blog contain affiliate links.
Skill level: Easy
Finished size: (adult)
Hat circumference = 21″
Hat height without brim = 6.75″
Brim height = 3″
Materials (I used)
I used One skein of Lion Brand Rewind yarn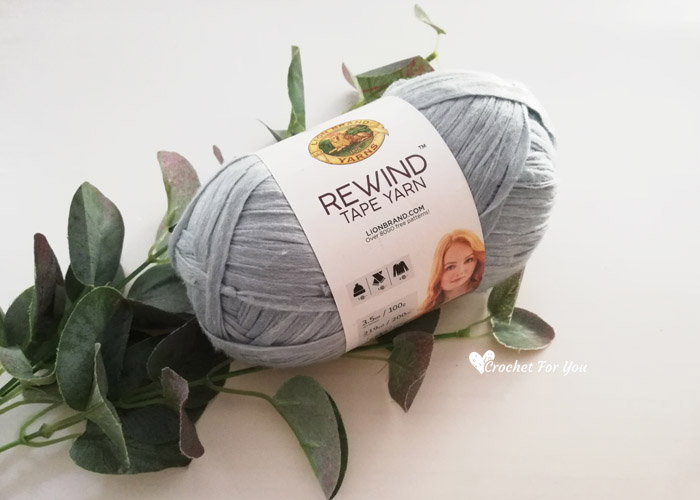 This is my first time working with Tape yarn. Lion Brand Rewind has more beautiful color options. Lion Brand Rewind is a tape yarn but very soft and fun to work with. This yarn is bulky weight made of 70% polyester and 30% viscose.

Gauge: 14 sc x 15 rows = 4″ with US H-8, 5mm crochet hook.
Abbreviations
ch = chain
st = stitch
sk = skip
FL = front loop
sc = single crochet
dc = double crochet
* to ; = repeat * to the instructions.
Special stitches
sc2tog = [insert hook in next stitch, yo, pull up a loop] 2 times, yo, pull back through all the loops on the hook.
V-st = (sc, ch 1, sc) in indicated st.
Notes:
Do not join after each round of the body of the hat. Always attach the stitch markers on the first st in each round.
The brim part ends with joining to the first st of each round and starts with chain 1.
The beginning chain does not count as st.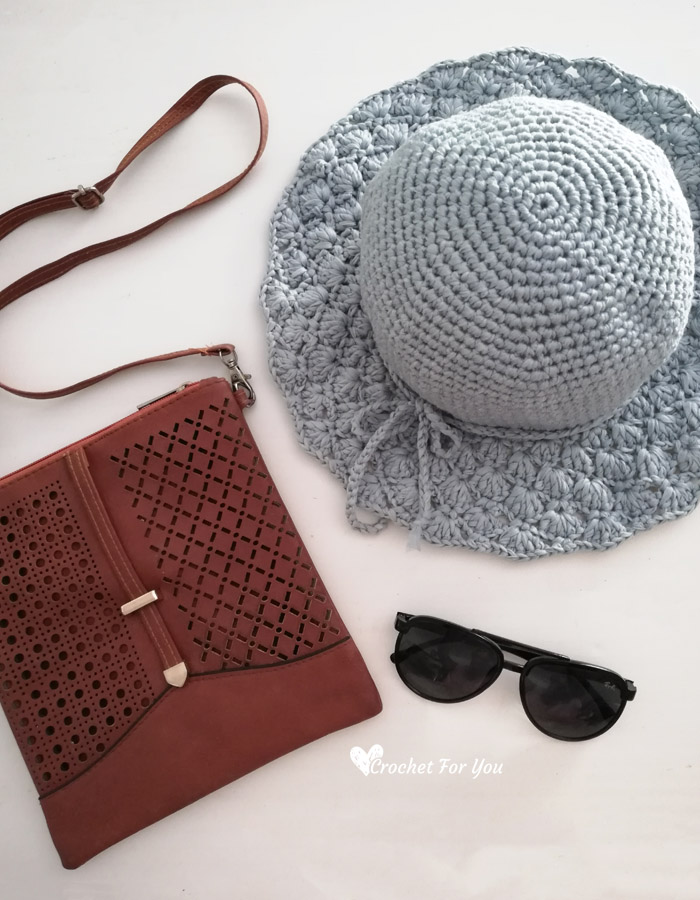 Floppy Shell Brim Sun Hat Pattern
Round 1: 6 sc into the adjustable ring. (6 sts)
Round 2: 2 sc in each st around, (12 sts)
Round 3: 2 sc in first st, *1 sc in next st, 2 sc in next st; repeat to around (18 sts)
Round 4: 2 sc in first st, *1 sc in each of next 2 st, 2 sc in next st; repeat * to around. (24 sts)
Round 5: 2 sc in first st, *1 sc in each of next 3 st, 2 sc in next st; repeat * to around. (30 sts)
Round 6: 2 sc in first st, *1 sc in each of next 4 st, 2 sc in next st; repeat * to around. (36 sts)
Round 7: 2 sc in first st, *1 sc in each of next 5 st, 2 sc in next st; repeat * to around. (42 sts)
Round 8: 2 sc in first st, *1 sc in each of next 6 st, 2 sc in next st; repeat * to around. (48 sts)
Round 9: 2 sc in first st, *1 sc in each of next 7 st, 2 sc in next st; repeat * to around. (54 sts)
Round 10: 2 sc in first st, *1 sc in each of next 8 st, 2 sc in next st; repeat * to around. (60 sts)
Round 11: 2 sc in first st, *1 sc in each of next 9 st, 2 sc in next st; repeat * to around. (66 sts)
Round 12: 2 sc in first st, *1 sc in each of next 10 st, 2 sc in next st; repeat * to around. (72 sts)
Round 13: 2 sc in first st, *1 sc in each of next 11 st, 2 sc in next st; repeat * to around. (78 sts)
Round 14: 2 sc in first st, *1 sc in each of next 12 st, 2 sc in next st; repeat * to around. (84 sts)
Round 15 to 21: sc in each st around. (84 sts)
Round 22: sc in each st around until 2 sts remain, sc2tog. (83 sts)
Round 23: sc in each st around. (83 sts)
Round 24 & 25: repeat rounds 22 and 23. (82 sts)
Round 26 & 27: repeat rounds 22 and 23. (81 sts)
Round 28 & 29: repeat rounds 22 and 23. (80 sts)
Round 30: sc in FL of each st around, sl st to the first st. (80 sts)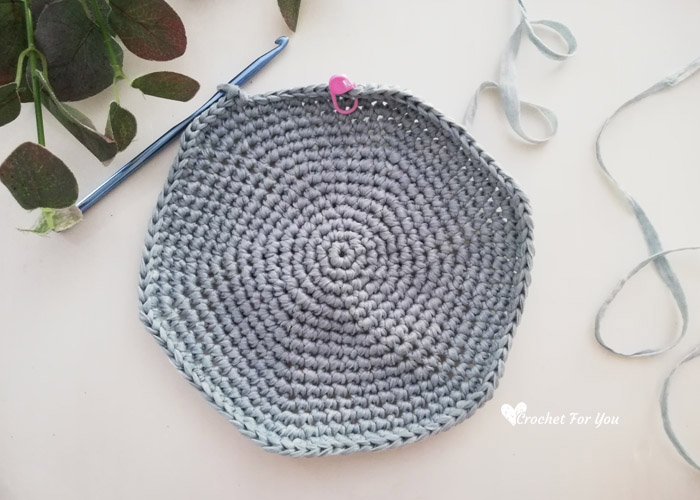 Brim
Round 1: ch 1, sc in first st, *sk next st, 3 dc in next st, sk next st, sc in next st; repeat * to around, sl st to the first sc. (20 3dc / 20 sc)
Round 2: ch 2, 3 dc in first st, *ch 1, sc in middle st of 3 dc, ch 1, 3 dc in next sc; repeat * to around, sl st to the first st. (20 3dc / 20 sc)
Round 3: sl st until middle st of 3 dc, ch 1, *sc in middle st of 3 dc, 5 dc in next sc; repeat * to around, sl st to the first st. (20 5dc / 20 sc)
Round 4: ch 2, 5 dc in first st, *V-st in middle st of 5 dc, 5 dc in next sc; repeat * to around, sl st to the first st. (20 5dc / 20 V-st)
Round 5: sl st until middle st of 5 dc, ch 1, *V-st in middle st of 5 dc, ch 1, 5 dc in next V-st, ch 1; repeat * to around, sl st to the first st. (20 5dc / 20 V-st)
Round 6: ch 2, 5 dc in first st, *ch 1, V-st in middle st of 5 dc, ch 1, 5 dc in next sc; repeat * to around, sl st to the first st. (20 5dc / 20 V-st) Fasten off and weave the end.

Cord
Crochet 156 chains tightly and fasten off weave the end. Place the hat on a head and Tie the cord around the hat and make a bow knot. (Make the hat more fit by adjusting the cord as you desired.)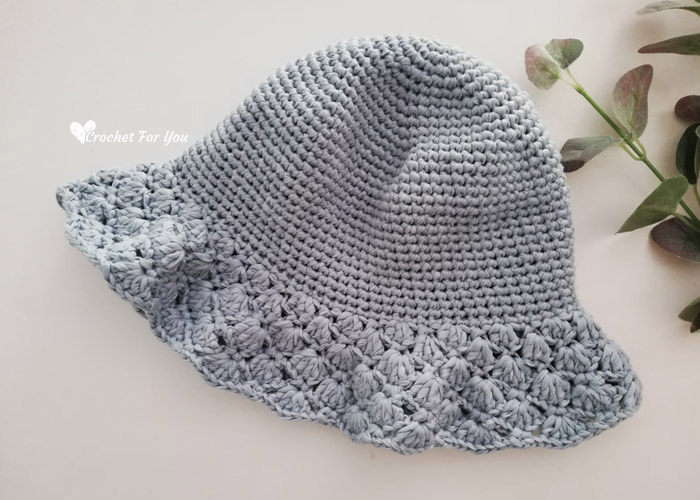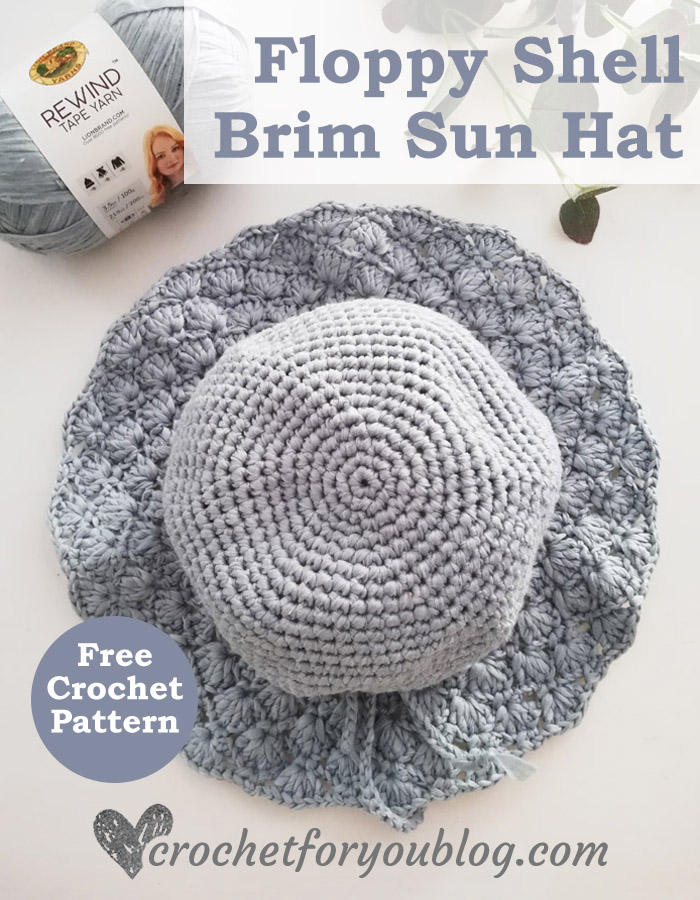 Hope to see you soon with a new FREE pattern
Until then, Happy Crocheting!!
Share your finished projects of this pattern on Crochet For You FB page.
Happy hooking with Crochet For You!!
Let's connect and share
Facebook | Pinterest | Twitter | Instagram

All contents include photography and patterns are copyrighted Crochet For You by Erangi Udeshika.
Do not copy, edit, distribute or republish patterns and images in this blog in part or whole as your own. Please, share a direct link to the pattern with others and anywhere else. You are welcome to make and sell finished items using my patterns.
Visit Copyright / Terms of use for more info. Thank you.