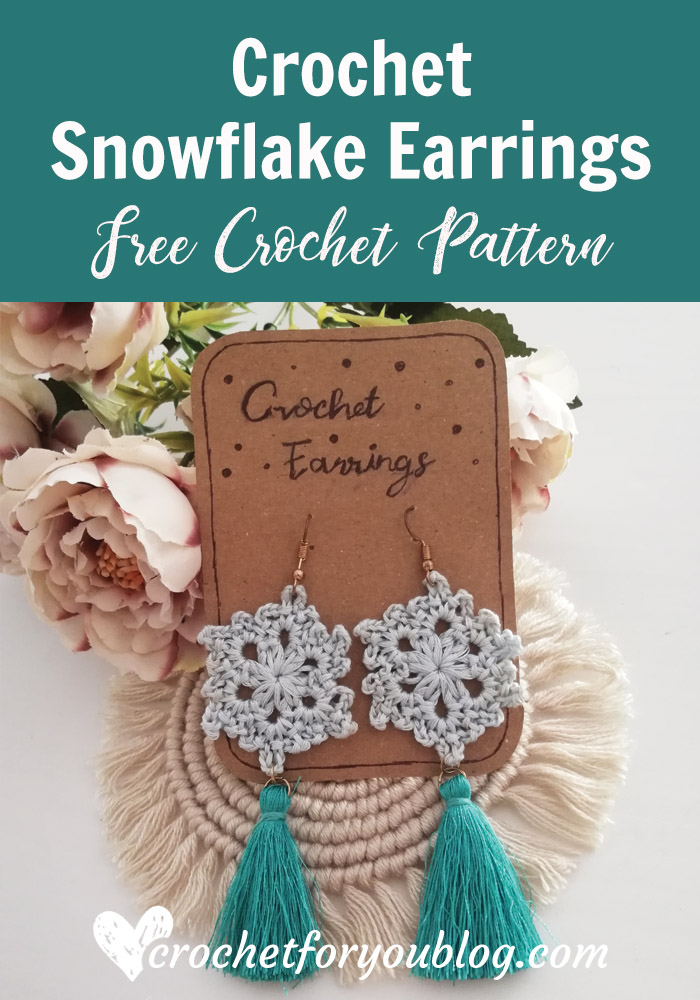 Crochet Snowflake Earrings Free Pattern
Crochet Snowflake Earrings Pattern by Crochet For You
Do you like to make seasonal earrings? Here is a quick and easy crochet earrings you can try. They are fun to make and perfect for holiday season.

Disclosure This blog contain affiliate links.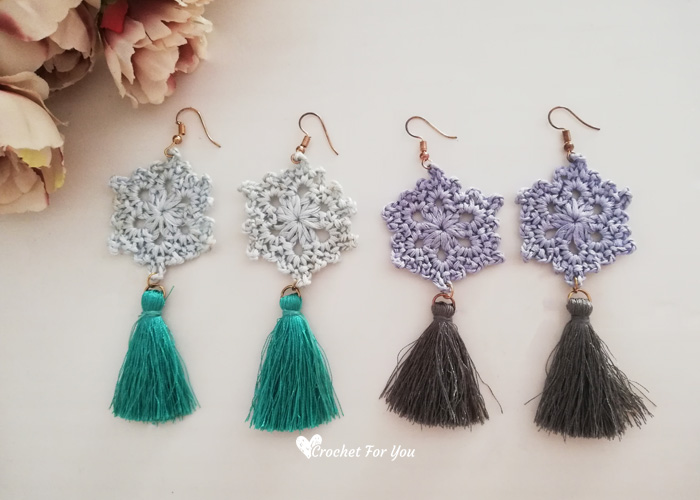 I wanted to make something special for this Christmas. As you know 5-Minutes Snowflake is my one of popular pattern that I shared with you couple of years ago. I did some little changes to the pattern and made these tiny snowflakes using embroidery floss and used tassels for jewellery making.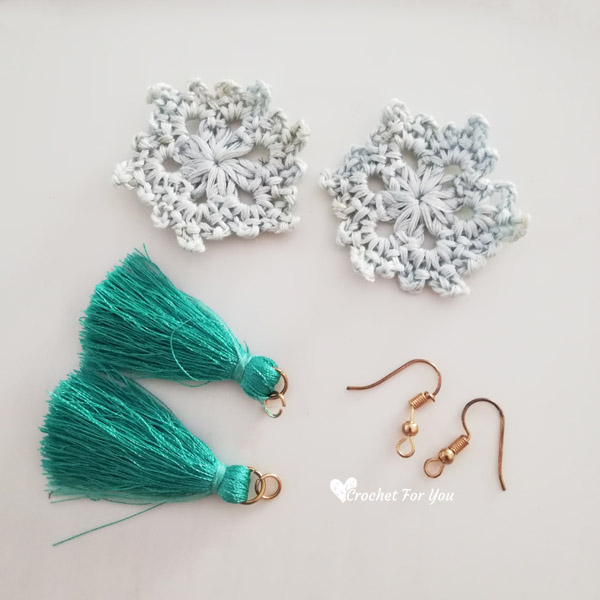 Skill level: Easy

Finished size of snowflake: 1.5″ wide
Materials: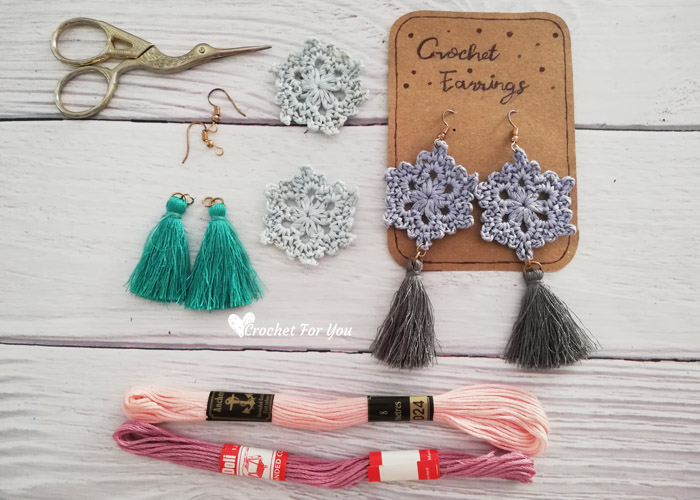 Gauge: Gauge is not important for this pattern.
Abbreviations/special stitches
sl st = slip stitch
ch = chain
sc = single crochet
hdc = half double crochet
st = stitch
ch-sp = chain space
sk = skip
beg = begininng
*to = repeat * to the instructions.
[ ] work instructions within brackets as many times as directed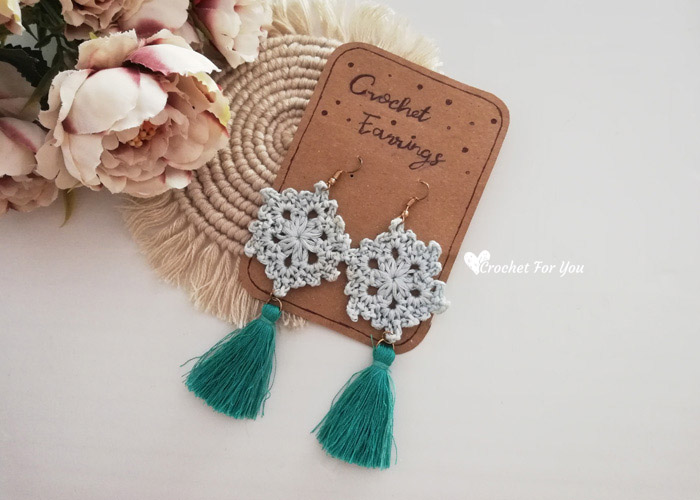 Crochet Snowflake Earrings
Make a magic ring,
Round 1: ch 1, 2 hdc into the ring, [ch 4, 2 hdc into the ring] 5 times, ch 4, sl st to first hdc. (6 sets of 2 hdc)

Round 2: sl st until next ch-sp, ch 1, sc in the same ch-sp, * (ch 4, sc, ch 6, sc, ch 4, sc) in the same ch-sp, sk next 2 hdc, sc in next ch-sp; repeat * to around, after crocheting last sc in last ch-sp in repeat section, sl st to first sc. (12 ch 4 loops / 6 ch 6 loops)
Fasten off and weave the end.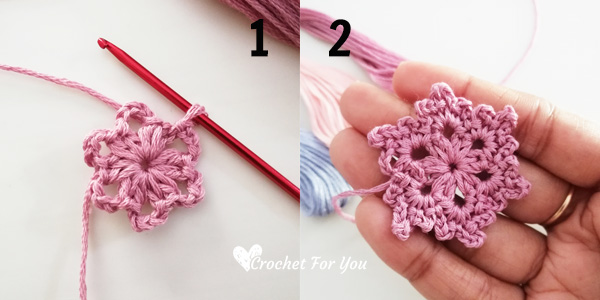 Assembly
You can use fabric stiffener to snowflakes if you like. Attach the earring hooks to to the top chain-6 loop of the snowflake. And the tassel at the bottom chain 6 loop (you can use a jump ring to connect tassel and the snowflake)

You are done!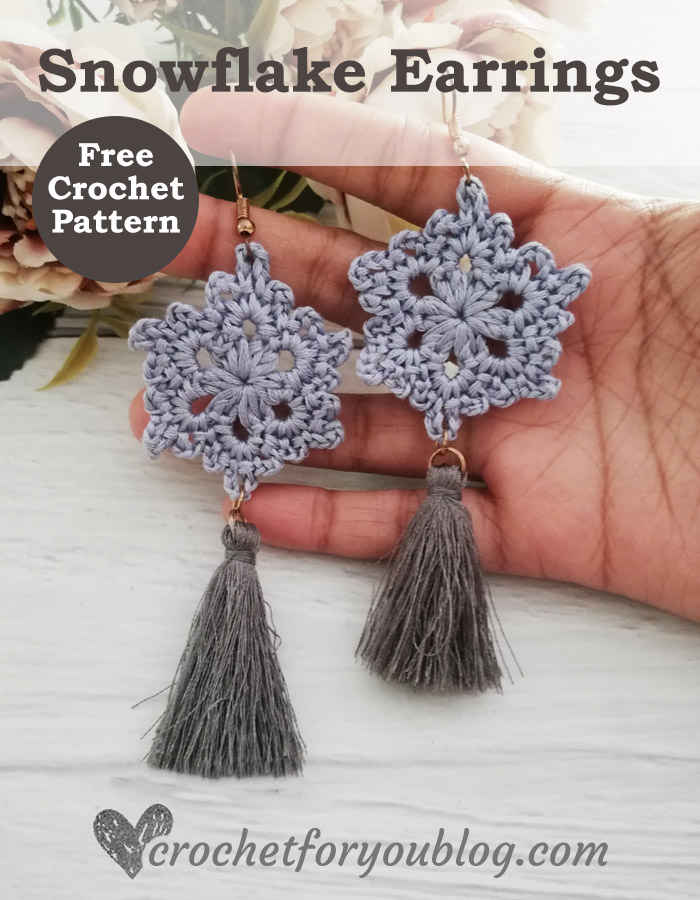 Hope to see you soon with a new FREE pattern
Until then, Happy Crocheting!!
Share your finished projects of this pattern on Crochet For You FB page.
Happy hooking with Crochet For You!!
Let's connect and share
Facebook | Pinterest | Twitter | Instagram

All contents include photography and patterns are copyrighted Crochet For You by Erangi Udeshika.
Do not copy, edit, distribute or republish patterns and images in this blog in part or whole as your own. Please, share a direct link to the pattern with others and anywhere else. You are welcome to make and sell finished items using my patterns.
Visit Copyright / Terms of use for more info. Thank you.