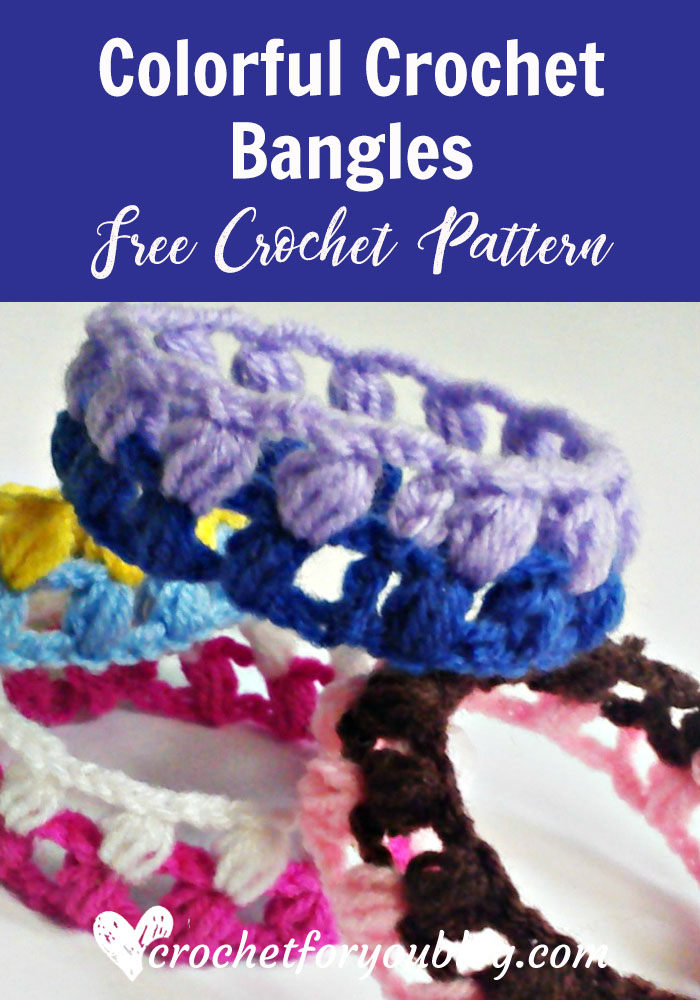 Free Colorful Crochet Bangles Pattern
Colorful Crochet Bangles Pattern by Crochet For You.
Finally, I used my stash yarn to make some bangles. These colorful crochet bangles are perfect for teenage girls. Crochet as many as you can and wearing 2,3 or 4 at once. They are fun to make and great for scrap yarns.
Disclosure: This post may contain affiliate links.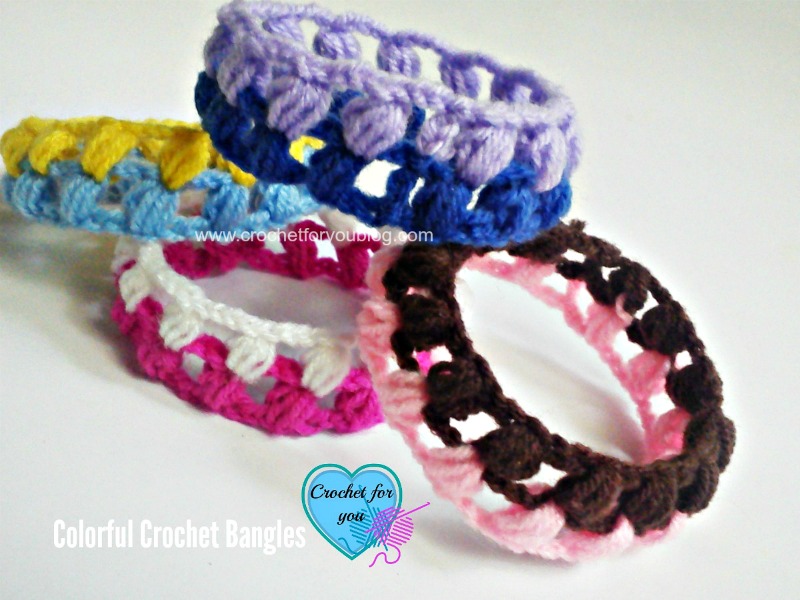 Don't forget to add this pattern to Ravelry queue
Skill level easy
Finished size: small, 7" circumference
Materials (I used)
Sport weight yarn (13 WPI) 
Small amount of yarns about 5 yards long for one round. Choose any color you want
4 mm crochet hook for crocheting foundation chain
5 mm crochet hook
This pattern can be worked in any yarn weight. Gauge is not important for this project.
Abbreviations
ch = chain
sl st = slip stitch
st = stitch
sk = skip
beg = beginning
CA = Color A
CB = Color B
** = work instructions within brackets as many times as directed.
Special Stitch
3 hdc-puff st = [yarn over, insert hook into the indicated st and pull up a loop] 3 times, yarn over and pull through the all loops on the hook.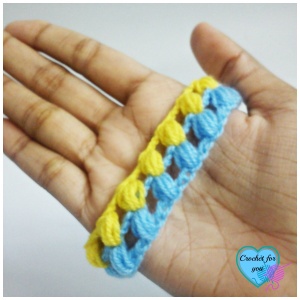 Note
I crocheted these bangles little more tightly than normal way I do. If you think your stitches go loosely and large, move to small size crochet hook. You can use 3.5mm or 3 mm sizes.
This is a free size pattern. To get the desired length, crochet multiple of 3. Get the measure of around the palm just above thumb while
you are crocheting foundation chain.
These bangles can be worked in one color as well, but I like the way of colorful bangles wearing 2,3 or 4 at once.
Colorful Crochet Bangles Pattern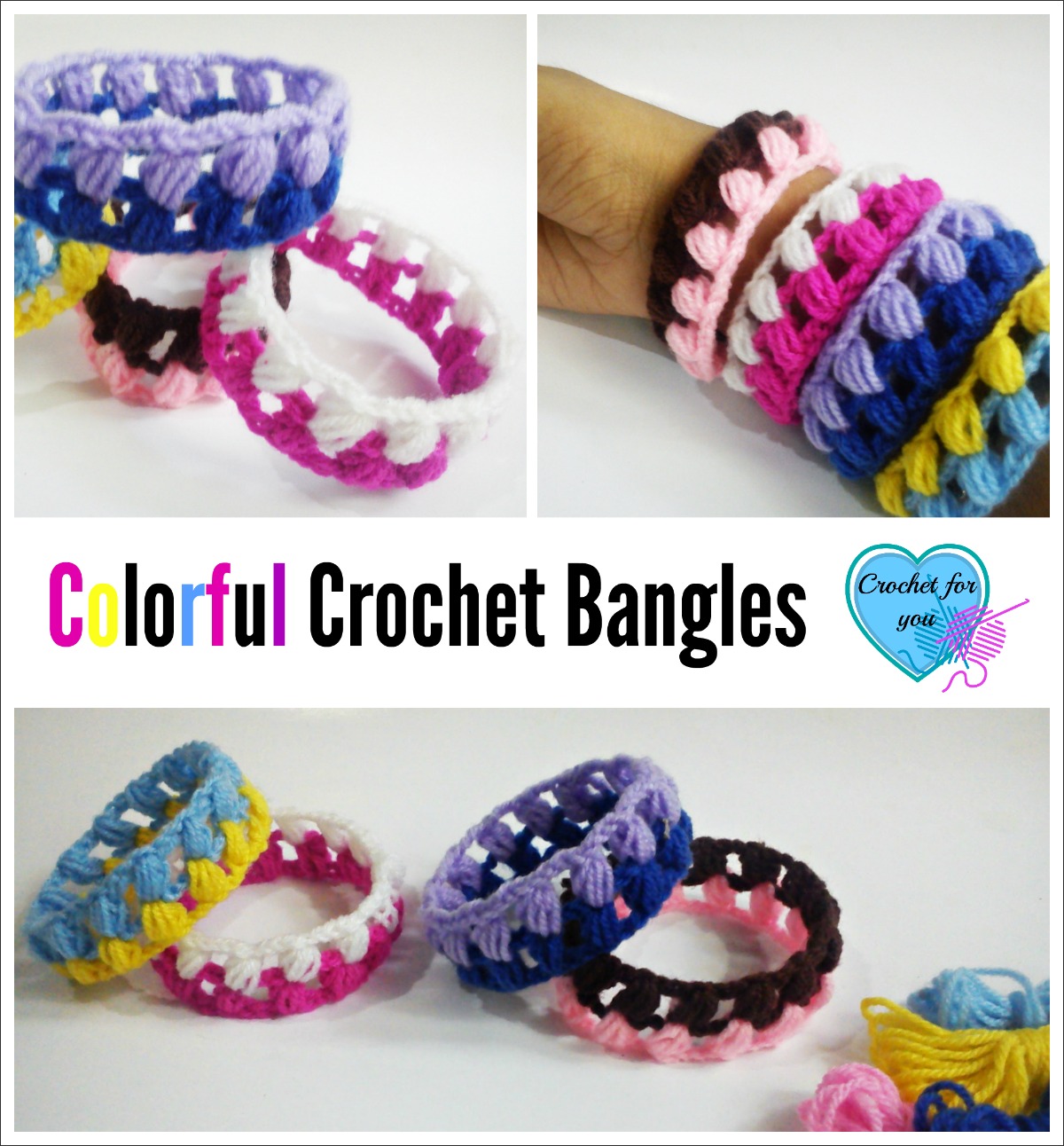 (CA) Using 4 mm crochet hook, ch 42 (14 x 3)
sl st to first ch, be careful not to twist.
Round 1: With 3.5 mm crochet hook, ch 3, *3-hdc puff st in next ch, ch 2 tightly, sk next ch 2* repeat *to* end, sl st to beg ch 3.
Round 2: Join (CB) with ch 3, *3-hdc puff st to the top of puff st (there is a small hole on the puff st) you crocheted previous round, ch 2 tightly* repeat *to* end. sl st to beg ch 3. Fasten off. Weave the ends.
Can't wait to see your finished projects. 🙂  Share your finished projects of this pattern
Happy hooking with Crochet For You!!
Let's connect and share   facebook | google+ | pinterest | twitter | Newsletter
---
All contents include photography and patterns are copyrighted Crochet For You by Erangi Udeshika.
Do not copy, edit, distribute or republish patterns and images in this blog in part or whole as your own. Please, share a direct link to the pattern with others and anywhere else. You are welcome to make and sell finished items using my patterns.
Visit Copyright / Terms of use for more info. Thank you.