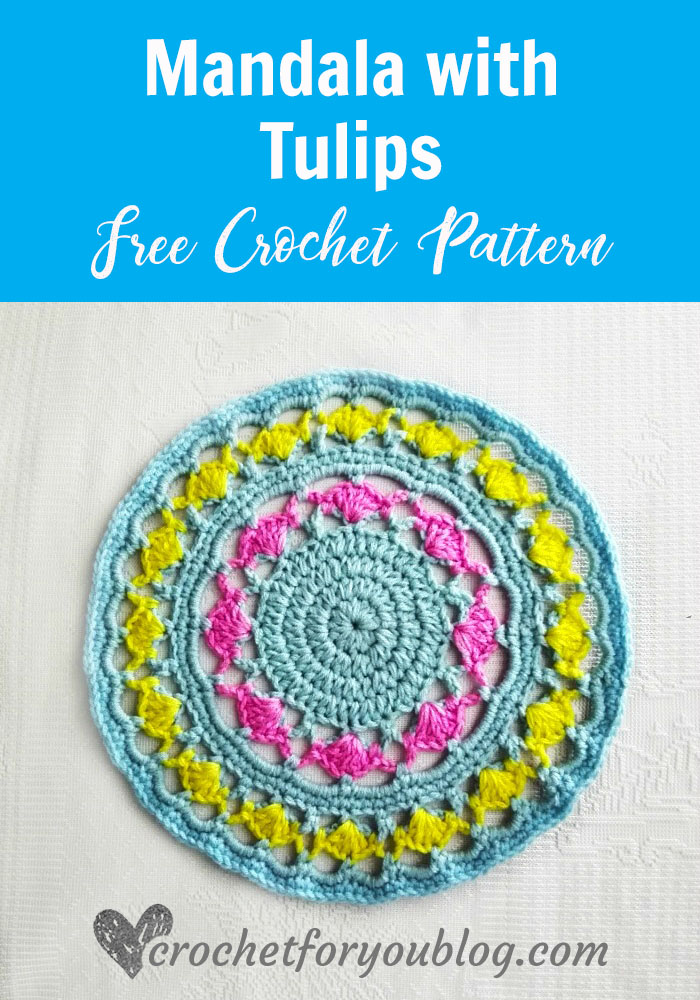 Crochet Mandala with Tulips – free pattern
Crochet Mandala with Tulips Pattern by Crochet For You.
I hope you all like my Pear Blossoms Doily I published previously! Today I'm sharing with you crochet mandala pattern. You can use this as wall decoration, and many other ways like a coaster, hot pad for your dining room and kitchen. For this pattern, I used 3 colors because I want a colorful mandala. Those pink and yellow colored rounds with 5-dc shell stitches look like tulips. Add your favorite tulip flowers' color and make your mandala with favorite colors.
Disclosure: This blog contains affiliate links.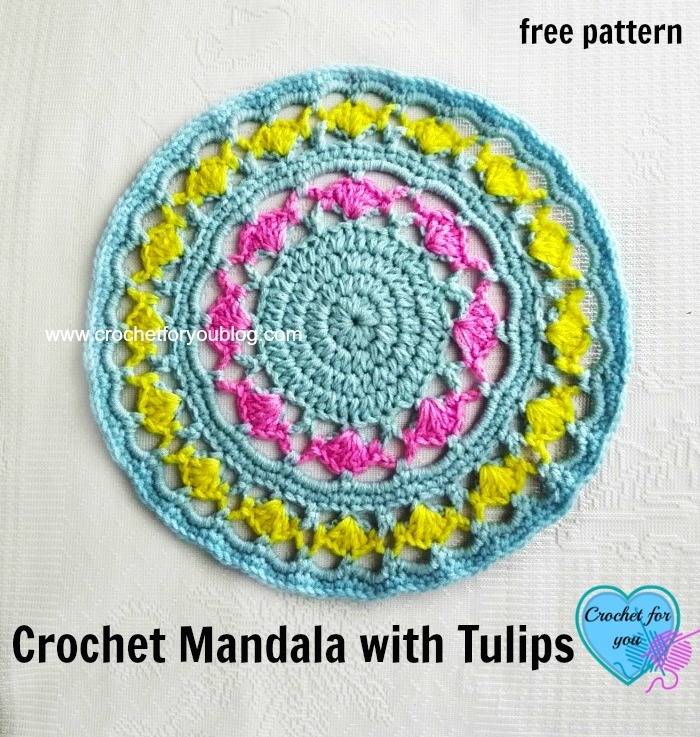 Don't forget to add this pattern to Ravelry queue
Skill level Intermediate
Finished size 11.5" in diameter
Materials
Worsted weight yarn in 3 colors (16 WPI)
(MC) approx: 120 yards / (CA) approx: 45 yards / (CB) approx.: 45 yards
4mm crochet hook
Tapestry needle for weave the end
Abbreviations / stitches
ch = chain
sl st = slip stitch
st = stitch
sc = single crochet
hdc = half double crochet
dc = double crochet
ch-sp = chain-space
sk = skip
beg = beginning
*to = repeat * to the instructions.
[ ] work instructions within brackets as many times as directed
Special stitch
5-dc shell st = 5 dc in indicated st.
Gauge: 21 dc x 8.5 rows = 4" with 4mm crochet hook.
Note: beg ch does not count as st.
 Crochet Mandala with Tulips Pattern
Make a ring with (MC)
Round 1: 12 hdc into the magic ring, sl st to first hdc. (12 hdc sts)
Round 2: ch 1, 2 hdc in same st, 2 hdc in each st around, sl st to first hdc. (24 hdc sts)
Round 3: ch 1, 2 hdc in same st, *1 hdc in next st, 2 hdc in next st; repeat * to around, sl st to first hdc. (36 hdc sts)
Round 4: ch 1, 2 hdc in same st, * 1 hdc in next 2 sts, 2 hdc in next st; repeat * to around, sl st to first hdc. (48 hdc sts)
Round 5: ch 1, sc in same st, *ch 5, sk next 2 sts, sc in next st; repeat * to around, last ch 5 sl st to first sc. (16 ch-sp(s))
Round 6: Join (CA) in 3rd ch of ch 5, ch 1, sc in same ch, *shell st in next sc, sc in next ch-5 sp, ch 5, sc in next ch-5 sp; repeat * to around, last ch 5 sl st to first sc. (8 shells sts)
Round 7: Join (MC) in 3rd dc of shell st, ch 1, sc in same st, * ch 5, sc in next ch-5 sp, ch 5, sc in 3rd dc of next shell st; repeat * to around, last ch 5 sl st to first sc. (16 ch-5 sp(s))
Round 8: ch 1, sc in same st, * 5 sc in ch-sp, sc in next sc; repeat * to around, sl st to first sc. (96 sc sts)
Round 9: ch 1, sc in same st, sc in each st around, sl st to first sc. (96 sc sts)
Round 10: repeat round 5. (32 ch-sp(s))
Round 11: With (CB), repeat round 6. (16 shell sts)
Round 12: Join (MC) in 3rd dc of shell st, ch 1, sc in same st, *ch 4, sc in ch-5 sp, ch 4, sc in 3rd dc of shell st; repeat * to around, last ch 4 sl st to first sc. (32 ch-4 sp(s))
Round 13: ch 1, sc in same st, * 4 sc in ch-sp, sc in next sc; repeat * to around, sl st to first sc. (160 sc sts)
Round 14: ch 1, sc in same st, sc in each st around, sl st to first sc. (160 sc sts)
Hope to see you soon with a new FREE pattern 
Until then, Happy Crocheting!!
Share your finished projects of this pattern on Crochet For You FB page.
Happy hooking with Crochet For You!!
Let's connect and share 
Facebook | Pinterest | Twitter | Instagram
All contents include photography and patterns are copyrighted Crochet For You by Erangi Udeshika.
Do not copy, edit, distribute or republish patterns and images in this blog in part or whole as your own. Please, share a direct link to the pattern with others and anywhere else. You are welcome to make and sell finished items using my patterns.
Visit Copyright / Terms of use for more info. Thank you.