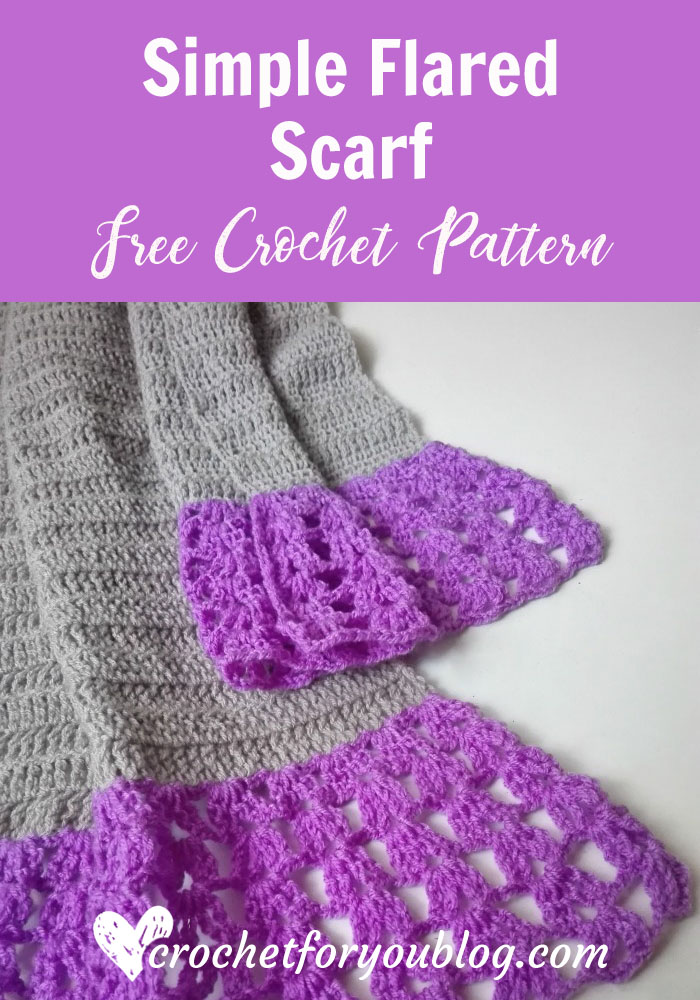 Simple Flared Scarf Free Crochet Pattern
Simple Flared Scarf Pattern on Crochet For You.
This beginner friendly scarf pattern is super fast. Once you learn how to crochet basic stitches, chains, and treble crochet, this scarf is perfect for test your skill. It is not just a super easy pattern to try but it also has a stylish look with two flared parts.
Disclosure This blog contains affiliate links.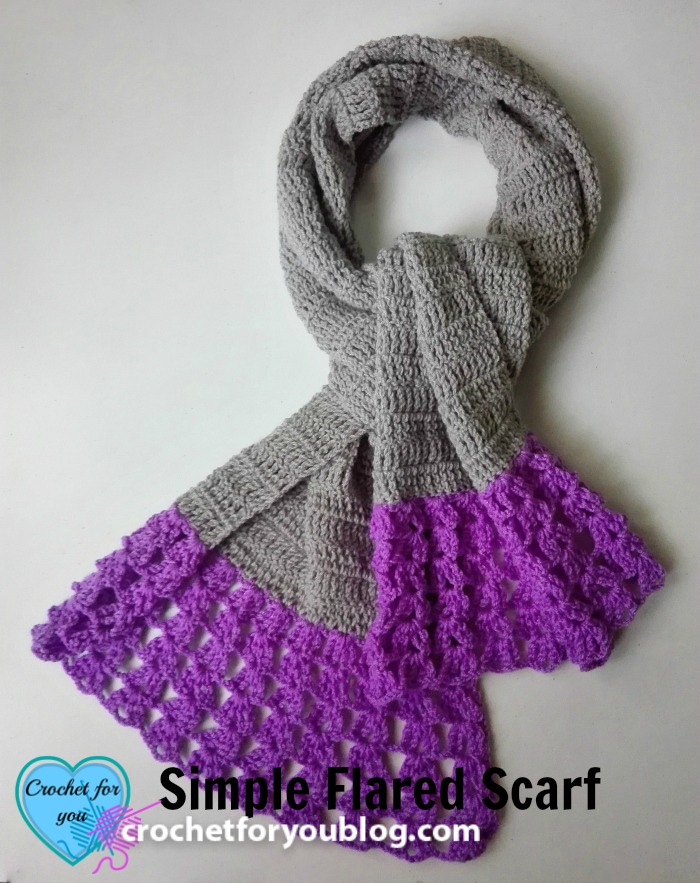 Don't forget to add this pattern to Ravelry queue
More about the pattern
This crochet scarf uses three basic crochet stitches – chains (ch), slip stitches (sl st) and treble crochet (tr). Two flared lace parts gives it a stylish look. Once you have finished the main piece, start to crochet flared part in two ends of the scarf with another color. This pattern would be great with worsted weight yarns and the gauge is not very important. You can also use multiple colors or self-striping yarns to make this scarf.

Skill Level: beginner
Finished size: 53″ long, 15″ in the widest part of the flare.
Materials:
Sport weight, 100% acrylic
(C1) gray color (Approx: 350 yards)
(C2) purple color (Approx: 100 yards)
4mm crochet hook
This pattern can be worked in any yarn weight. Gauge is not very important for this project.
Guage: 19 tr x 6 rows = 4″ with 4 mm crochet hook.
Abbreviations / stitches
ch = chain
sl st = slip stitch
tr = treble crochet
st = stitch
sk =skip
ch-() space = chain – (count of chain) space
Special stitch
tr-shell = (2 tr, ch 3, 2 tr) in indicated st.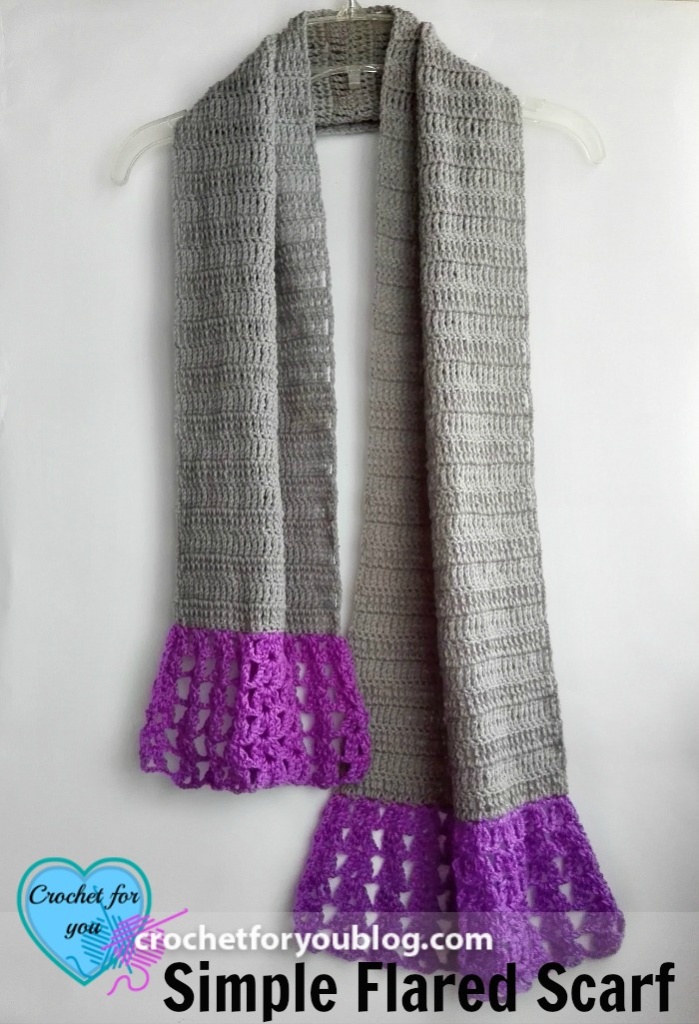 Simple Flared Scarf Pattern
ch 50 with (C1)
Row 1: tr in 5th ch from the hook, tr in each st across, turn. (47 sts including beg ch(s).
Row 2: ch 4 (count as a st), tr in each of next st across, turn. (47 sts)
Row 3 to 65: repeat row 2.
Flared part (working at the two end of the scarf). (Make 2)
Row 1: join the (C2) yarn at first st with ch 3, *sk next st, sl st to next st, ch 3; repeat * to across, turn. (23 ch-3 spaces)
Row 2: ch 4, tr-shell in first ch-3 space, *ch 2, sk next ch-3 space, tr-shell in next ch-3 space; repeat * to across, tr in last ch-3 space, turn. (12 tr-shells)
Row 3: ch 4, *tr-shell in ch-3 space of the shell, ch 2; repeat * to across, tr in beg ch 4 top, turn. (12 tr-shells)
Rows 4 to 6: repeat row 3. Fasten off and weave the ends.
Hope to see you soon with a new FREE pattern 
Until then, Happy Crocheting!!
Share your finished projects of this pattern on Crochet For You FB page.
Happy hooking with Crochet For You!!
Let's connect and share 
Facebook | Pinterest | Twitter | Instagram
All contents include photography and patterns are copyrighted Crochet For You by Erangi Udeshika.
Do not copy, edit, distribute or republish patterns and images in this blog in part or whole as your own. Please, share a direct link to the pattern with others and anywhere else. You are welcome to make and sell finished items using my patterns.
Visit Copyright / Terms of use for more info. Thank you.