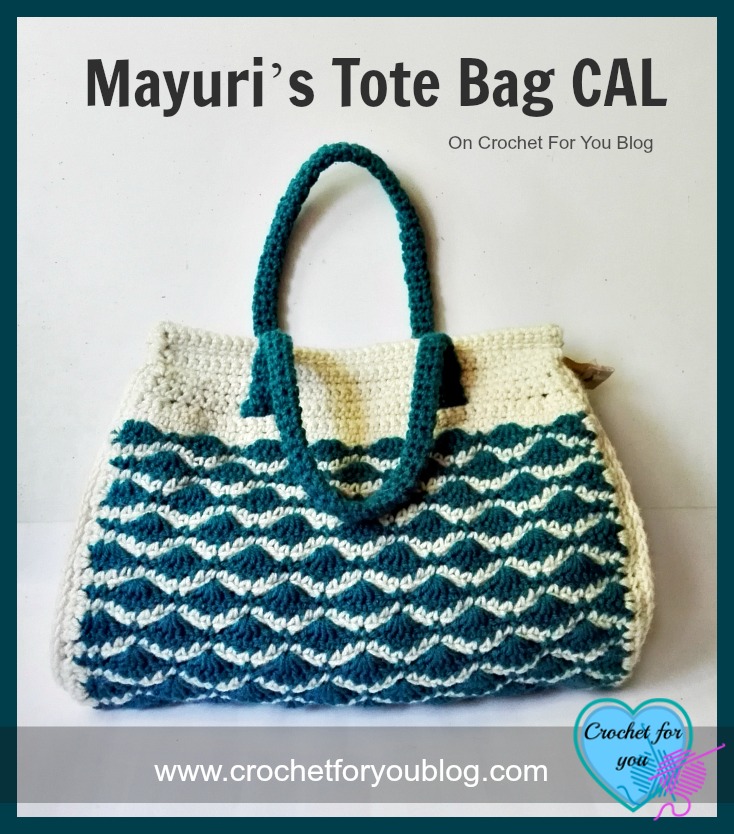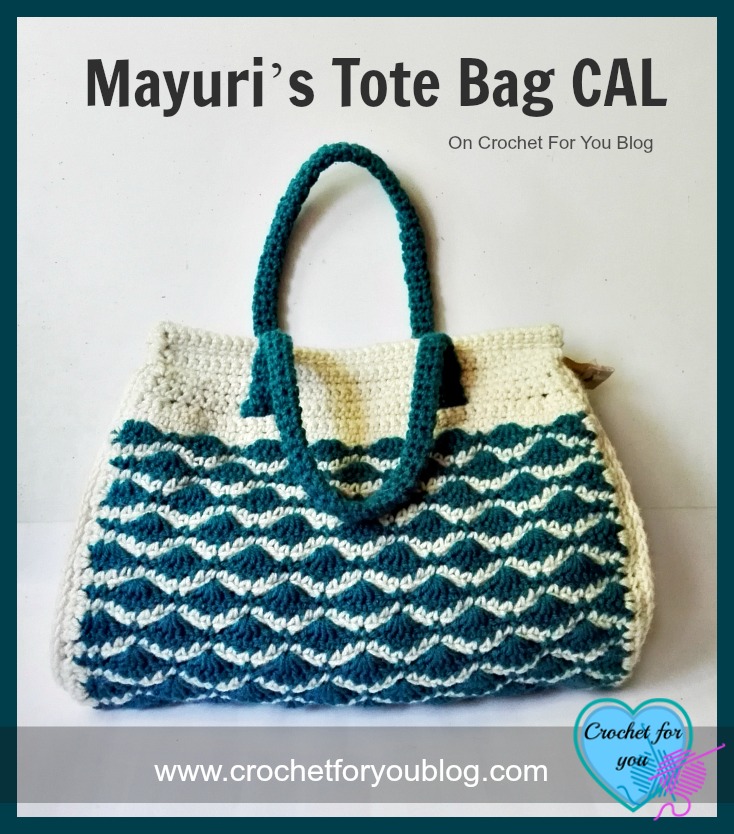 Welcome to Mayuri's Tote Bag CAL 2016
Finally, I'm ready to start a crochet-a-long for 2016.  And this CAL is for making a Mayuri's Crochet Tote bag. This is my second CAL after Spring and Summer Triangle Shawl I did in 2015.
Since it's not a mystery CAL, let me show you final result when it's finish.
Disclosure: This blog contains affiliate links.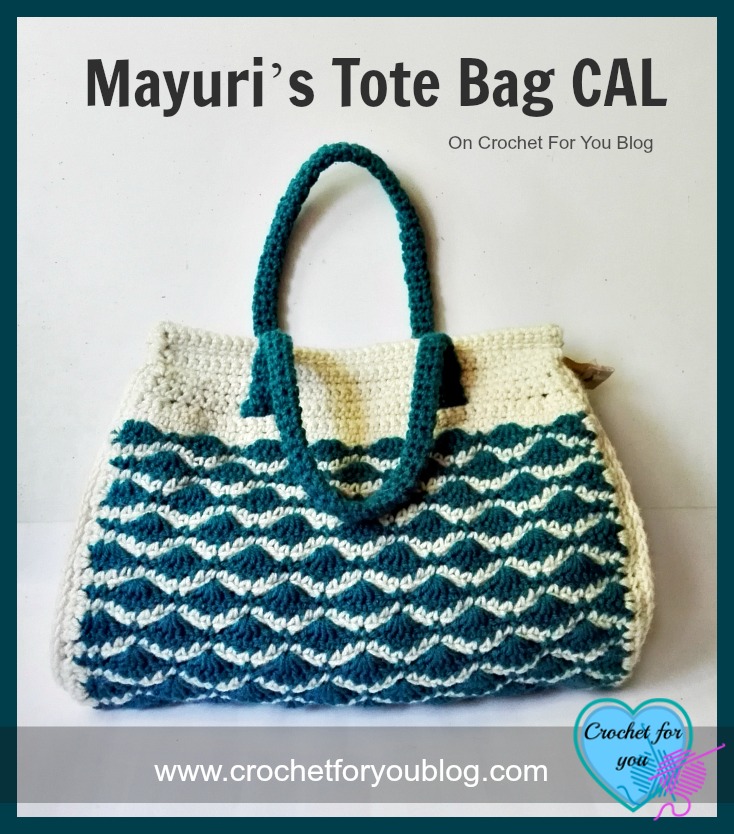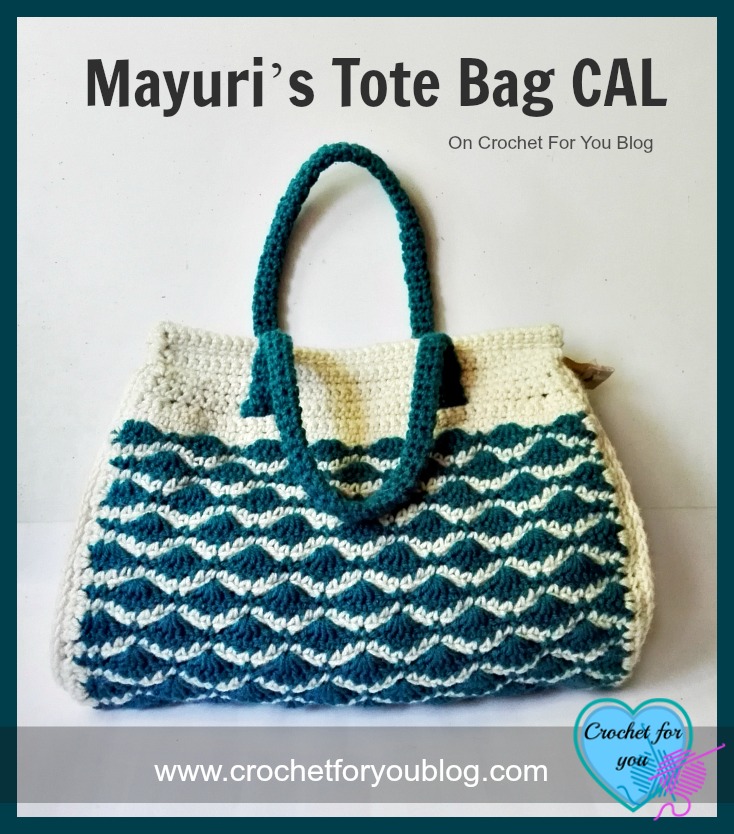 Don't forget to add this CAL to Ravelry queue
This CAL will run every Tuesday through this May. And have divided into 4 parts (not including this post). Please scroll down and see the schedule. I will update each part with the link when it's published.
Updated: Here is the Mayuri's Crochet Beanie pattern I made with leftover yarns from this CAL. Click on the photo to go to the free pattern.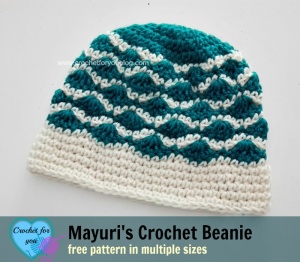 Ready to start ??
If you are interesting about making this crochet tote bag, come and join with us! And don't forget to tell your crochet lover friends. Please feel free to join with my Facebook page where I hope to start event for this CAL.
Skill level Intermediate
Materials
To make this bag I used Red Heart Super Saver yarns in 2 colors with 5mm crochet hook. Also it can be worked with any worsted weight yarns (medium 4). Use any color you want, I love these color combinations of Red Heart SS Aren and Real Teal and it's my choice.
You will need
1 skein of Red Heart Super Saver Aren (Approx:364 yards)
1 skein of Red Heart Super Saver Real Teal (Approx:364 yards)
5mm crochet hook
Stitch markers
Pins, scissors, tape measure
Tapestry needle for weaving ends
Piece of fabric Approx: 25″ x30″, needle and thread for lining
Zipper one side closed with the tag or you can use a normal zipper as well (zipper should be 2-3" longer than the opening of the bag)
Gauge 14 sc and 12 rows = 4" with 5mm crochet hook
Finished size of the bag
Height = 11.5" (not including handles).
Width of the top = 11.75"
Width of the bottom = 13.75"
What color do you like to use?
If you haven't any idea about what color combo is good for… here are my few suggestions with the links to buy through Amazon.
Schedule
I will update each part with the link below.
Part 1: Body of the bag (May 10) updated.
Part 2: Sides and handle (May 17) updated.
Part 3: Joining each part (May 24) updated.
Part 4: Lining (May 31)
See you next Monday with the part 1. 🙂