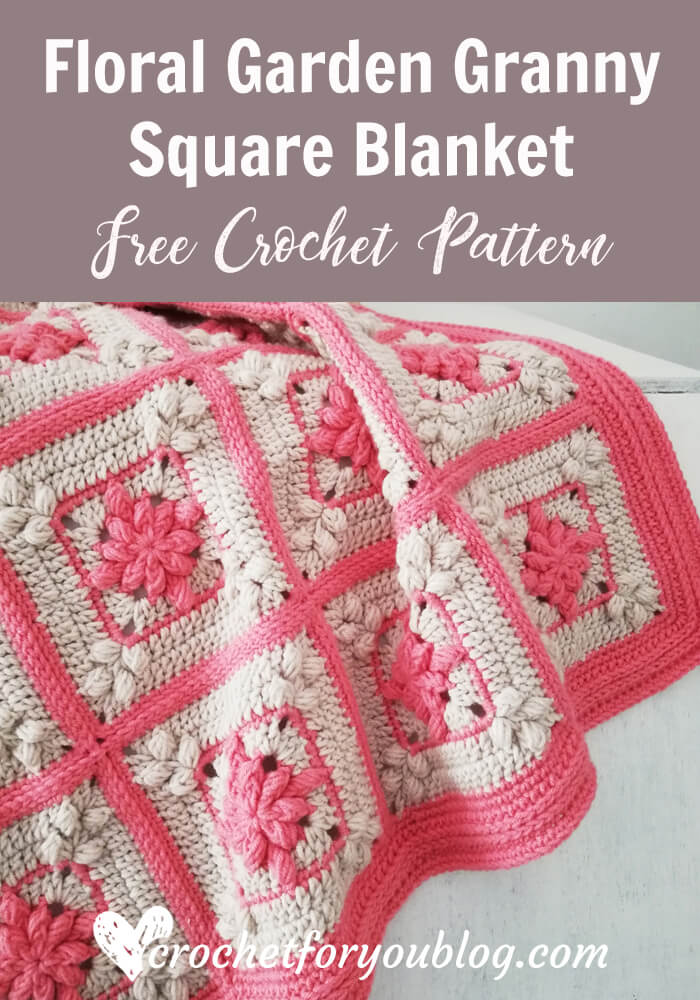 Floral Garden Granny Square Blanket CAL
If you love a textured, floral blanket with fun and relaxing squares, you'll love this Floral Garden Granny Square Blanket CAL.
This blanket combines everything I love.
It's textured, floral and the beautiful square blanket features my favorite bobble drop stitch.
Recently I fell in love with bobbles.
The idea of making this blanket was in my mind since I designed Emerald Asscher Afghan square and Bobble Drops Granny Square. I love the new look and texture created from combining these two patterns. Making a blanket with newly designed squares was very exciting and 100% happy about the final result. I hope you will love the Floral Garden Granny Square Blanket too.

Disclosure This blog contain affiliate links.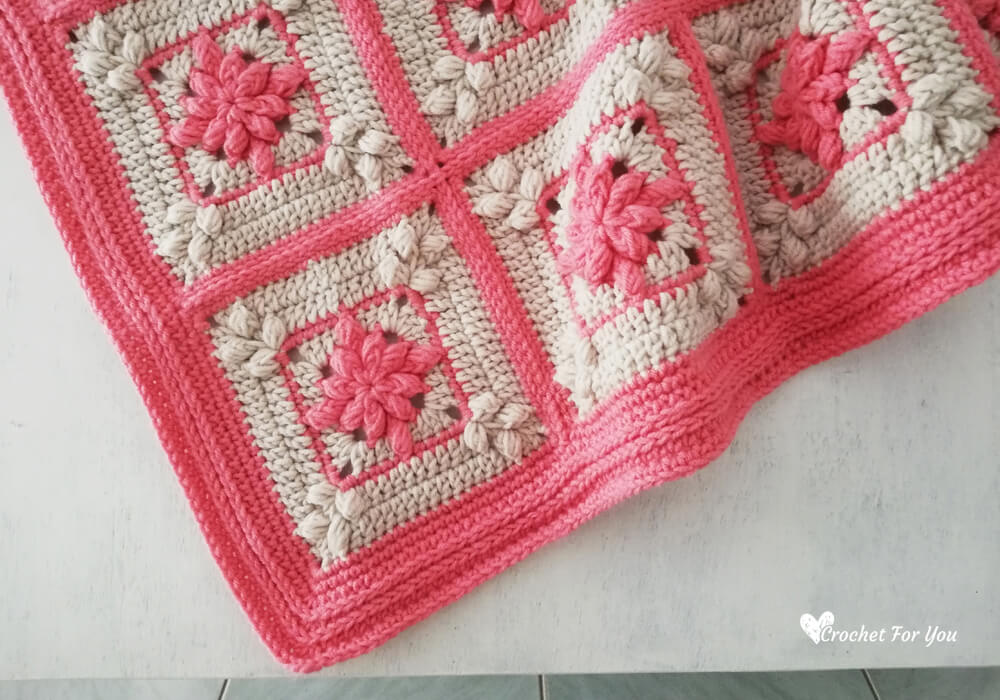 This blanket is made by joining lovely floral crochet squares together, which feature bobble drop stitches. Each square crocheted individually and joined together at the end. The blanket worked up with two colors. While I design this as a baby blanket, you can adjust the pattern to any size, throw to bedspread.
If you feel "oh.. I want to try this pattern",
please scroll down to see, how it works, the materials you'll need and how to customize the pattern size you want and how to join the CAL.
Skill level
This is an intermediate level pattern and you'll need to be comfortable with front post an bobble stitch.
Yarn and sizes
I'm using Ice Yarns Saver for this blanket. Ice Yarns Saver is 100% Dralon Acrylic, 200g and 330 meters. It is size #4 worsted weight yarn. I feel Saver is very, very soft and great for all kinds of blanket, afghans and more.

Saver comes in 2 skeins in one package so I ordered one pack of each color to make 32.5″ x 38.5″ size blanket. Make sure to buy all yarns amounts and yardage exactly you want before starting the project. Below you will find a chart for blanket sizes.

MATERIALS
– Any #4 Medium / Worsted weight yarns
I used
– 2 skein of Ice Yarn Saver – Candy Pink (100% Dralon Acrylic,200g = 360 yds/330 m)
– 2 skein of Ice Yarn Saver – Light Beige (100% Dralon Acrylic,200g = 360 yds/330 m)
– US 1-9 (5.5mm) crochet hook
– Stitch markers and pins / blocking boards or towel
– Tapestry needle for weaving ends.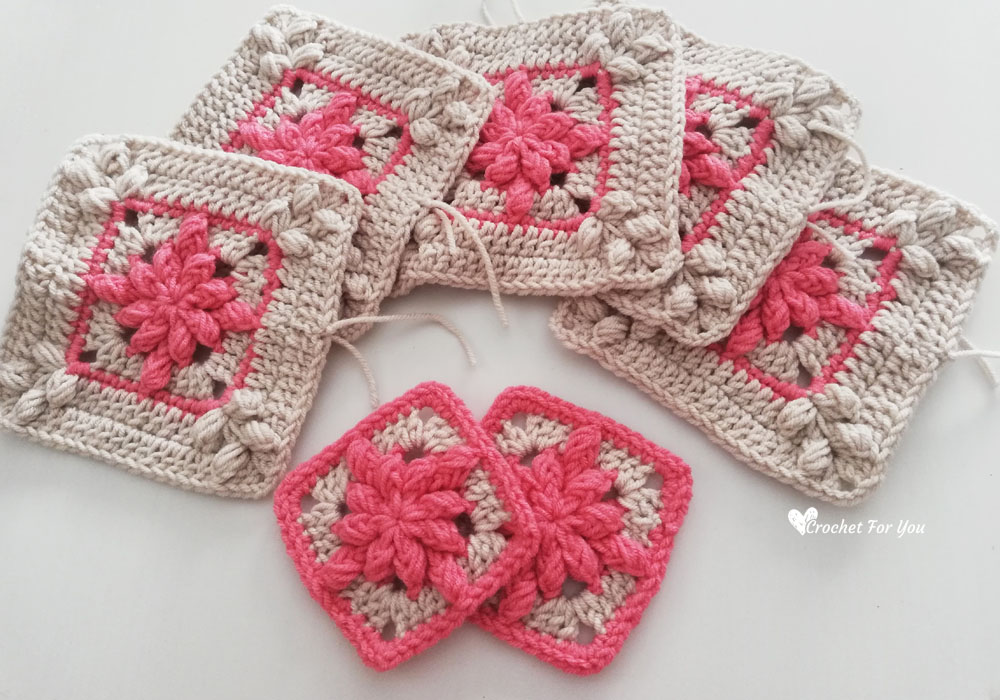 How many squares you'll need?
Find your blanket size you wish to make from the chart below (width & length) and calculate the total squares you want.
If you select any other worsted weight yarns, remember the finished size of the square and blanket will differ, too.
Measure your first finished square and decide how many squares you will need for your blanket size.
I designed the square with Ice Yarns Saver and each square measures 7″ x 7″.
To make my blanket I used 20 squares.
If your finished square bigger or smaller, and it doesn't get the same size 7″x 7″ listed in the pattern, the total squares and the yardage sometimes could be differ, too.
I added total yardage for all the squares and width & length in the chart below, this does not include the yarn for joining and the border part.
Each square requires Approx: 25 yards from accent color and Approx: 35 yards from the background color. 60 total yards for each square
Add 2″ more for each side of the blanket to get the finished size including border part.
And make sure to buy enough yarns including border part. That's mean you'll need to add more yardage to the total yardage in the chart below.
Width
Length
Total squares
(7″x 7″ size)
Total
Yardage
Baby
28″
35″
20
1200
Toddler
42″
49″
42
2520
Lapghan
35″
42″
30
1800
Throw
49″
56″
56
3360
Twin
63″
84″
108
6480
Double
84″
105″
180
10800
Queen
84″
105″
180
10800
King
105″
105″
225
13500
When the CAL start?
CAL has 4 parts going to live in the next 4 weeks. Each part will be published as a free pattern on here at www.crochetforyoublog.com Every Tuesday from next 28, Spt to 19, Oct, I will share each part with lots of step by step photos and video tutorials.
Come and join with us! And don't forget to tell your crochet lover friends.
Tag #crochetforyoublog when you share your WIP or finished project on Social media
Sign up for the newsletter for new updates on the blog
Hope to see you soon with a new FREE pattern 
Until then, Happy Crocheting!!
Share your finished projects of this pattern on Crochet For You FB page.
Happy hooking with Crochet For You!!
Let's connect and share 
Facebook | Pinterest | Twitter | Instagram

All contents include photography and patterns are copyrighted Crochet For You by Erangi Udeshika.
Do not copy, edit, distribute or republish patterns and images in this blog in part or whole as your own. Please, share a direct link to the pattern with others and anywhere else. You are welcome to make and sell finished items using my patterns.
Visit Copyright / Terms of use for more info. Thank you.